Held on the 8 March 2018, the Right to Build Expo: Unlocking the Potential of Custom & Self Build Housing was a resounding success, with an audience of local councillors, planners, developers and landowners.
At the event, a series of presentations shared the local picture of custom and self build, as well as a wide range of case studies, including a community land trust and the Veterans Self Build charity, which works with homeless ex-forces personnel.
Run by a partnership of NaCSBA, Wood for Good and The Right to Build Task Force, the Expos are an opportunity for the Task Force to share its learnings with a local audience.
The next expos are planned for London on the 10 May, Glasgow, 20 June and Fareham 6 September.
Teignbridge District Council led the Exeter Expo, with Council Leader and Task Force Deputy Ambassador Jeremy Christophers opening the day with an update of the local picture for Custom and Self Build, in which Teignbridge DC is an innovator.
As part of this address, Christophers announced that Teignbridge DC and its GESP (Greater Exeter Strategic Plan) Partners are to trial a new Custom and Self Build evidence tool for planners.
Developed in partnership by the Task Force and planning consultancy Three Dragons, the tool is to be piloted for the Greater Exeter sub-region involving East Devon District Council, Exeter City Council, Mid Devon County Council, Devon County Council, and Teignbridge DC .
It will help inform the preparation of the Greater Exeter Strategic Plan and is designed to give local authorities a means of assessing a longer-term view of Custom and Self Build demand and support their planning for serviced building plots.
You can find out more about the long-term assessment tool pilot, here.
NaCSBA Chair and Task Force Director Mario Wolf then gave a local picture about the latest news and sector information, including a look at the new draft revised National Planning Policy Framework and the case for Custom and Self Build.
Opportunities for Custom & Self Build across Greater Exeter – learning from Teignbridge
Simon Thornley, Business Manager, Strategic Place, Teignbridge District Council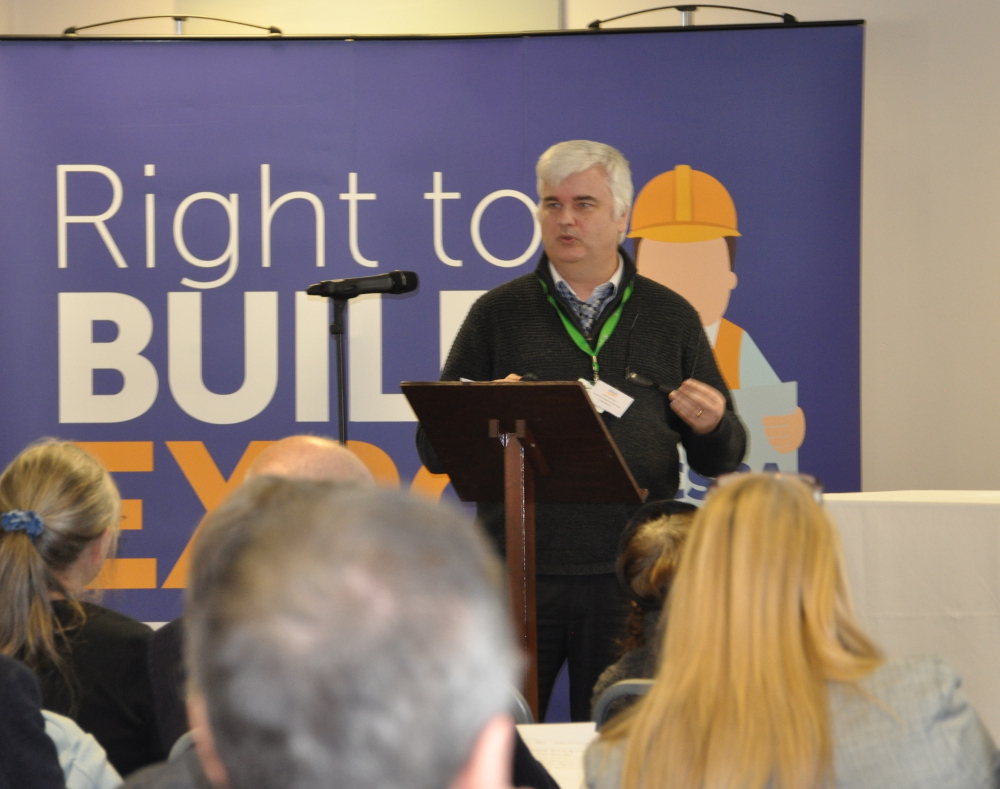 When bringing on Custom Build sites as part of a larger development, which often happens in Teignbridge due to the 5% Teignbridge Rule, try to ensure that the Self Build opportunities are factored in early.
Ideally, a separate site or works entrance supports this, enabling the Custom and Self Build homes to act as their own phase.
The Citizen Sector: How custom and self-build needs to be the new normal
Alastair Parvin, Co-Founder of WikiHouse Foundation
The digital revolution in other sectors has moved us from a model where we're reliant on a small number of centralised providers for industry, to a model where production is done by the many.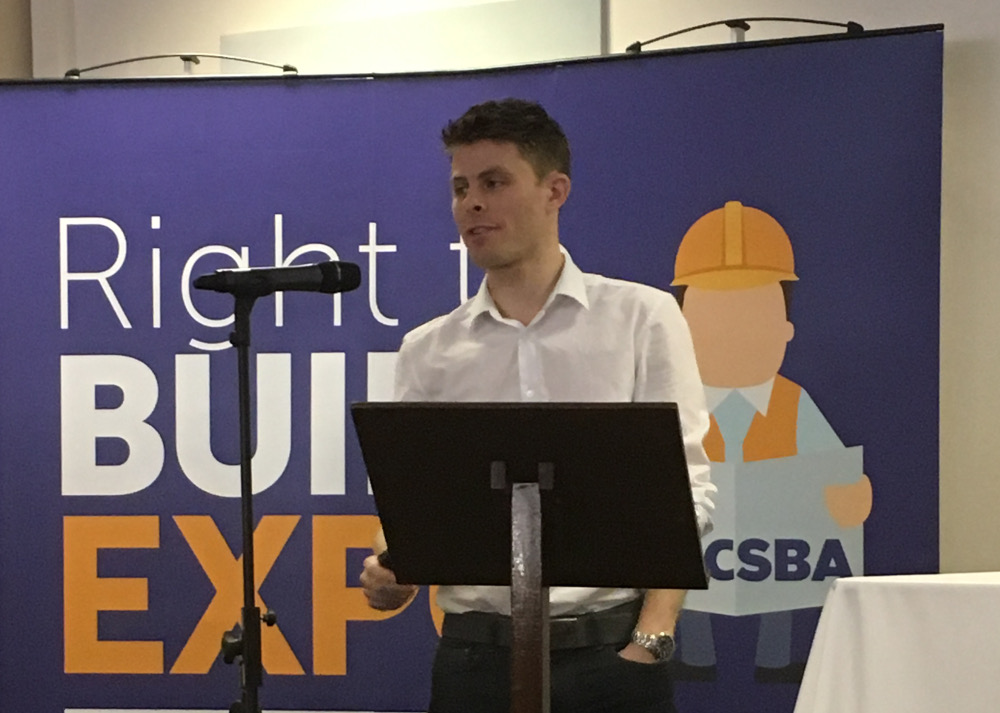 Twitter, YouTube and Air BnB all illustrate this, and these companies are now the world's biggest journalism network, TV channel and hotel chain respectively.
This digital change, the Fourth Industrial Revolution where digital fabrication goes small-scale to deliver variety, will impact on building massively, and especially through CNC machines.
The next step for our sector is to digitally automate this process to provide customisation that is simple, with cost structures and structural parameters built in.
WikiHouse is already developing these ideas, even linking the digital process with planning policy to ensure compliance as part of the process.
Custom and Self Build really is just a different way to buy a house, like buying a custom car.
We need to move towards a model that makes it's easier to buy homes in this manner, and, to keep it affordable, we need to move the conversation to the land affordability rather than build affordability. This is what will make a difference to our market as it evolves.
Enabled Community Self Build development: The Nelson Project in Plymouth
Alex South, Operations Director at Veteran Self Build and Community Self Build Agency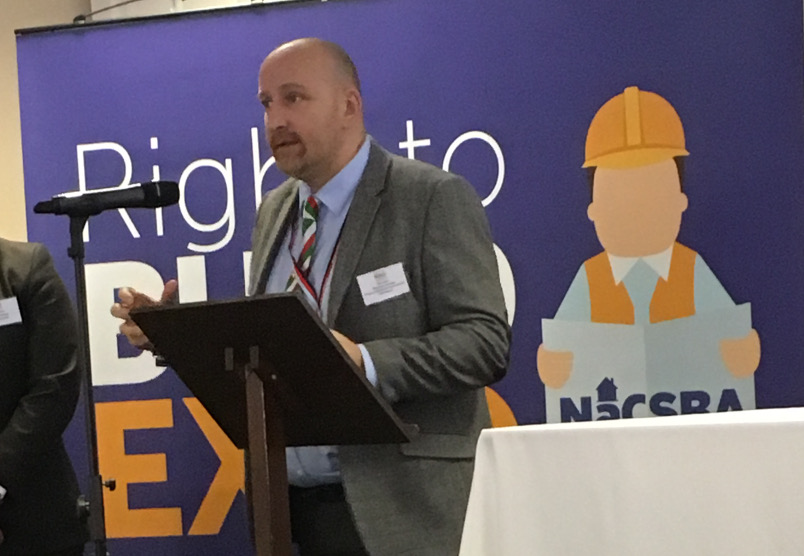 Through a multi-agency approach, we team up with local authorities who are able to offer land to bring on a Self Build opportunity, using homeless veterans to build, and ultimately live in them.
We're about getting a community together, and building something worthwhile – and for us that is the start of a recovery path for getting people's lives back. For us we talk about recovery, we talk about transformation, and we talk about community. And Self Build can deliver this for our disadvantaged veterans.
For the Nelson project we built on Plymouth City Council land, which they gave to us for a peppercorn fee, working with DCH, Form Design.
Of the 12 homeless veterans working on the scheme, all are now housed and back in full-time work or education, with the exception of those medical complications.
What's more, all of them have reconnected with family that they'd lost touch with, and the project has gone on to win several awards.
Donate or raise money for the CSBA/Veteran Self Build by clicking here. 
Local authority enabled group Custom and Self Build housing- Broadhempston Community Land Trust project
Residents Hugo Davies and Geoff Dowson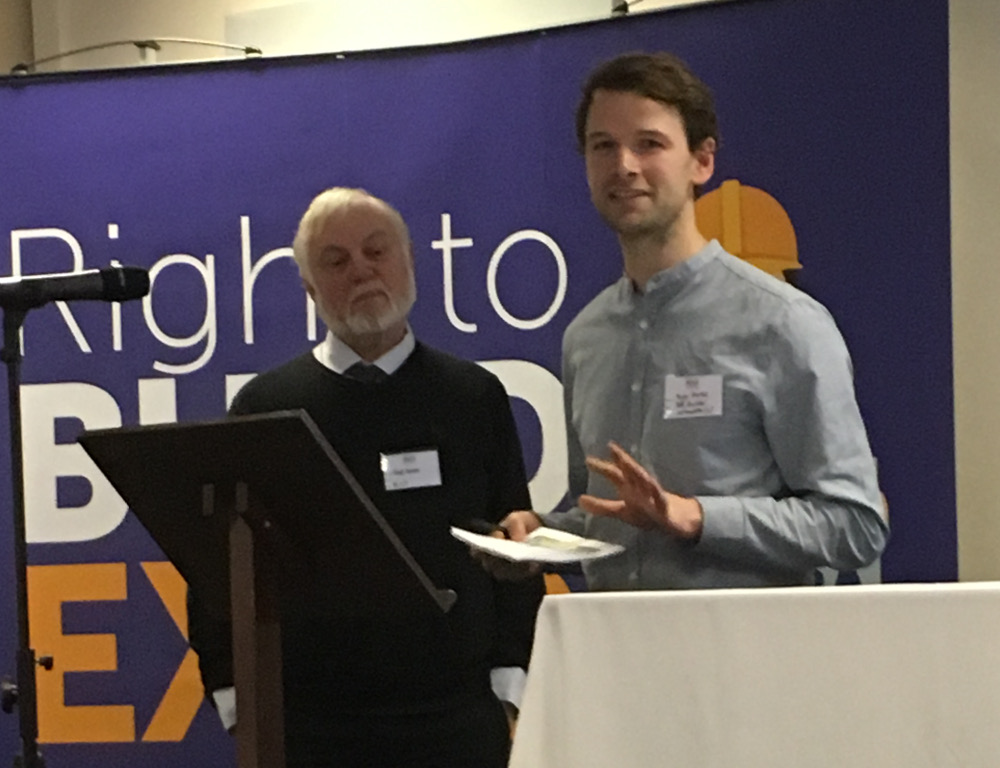 Broadhempston CLT created six affordable homes for people in housing need locally, and are now in residence on site.
A CLT is a company set up to develop community assets and uses a board of directors to bring on the project. As such, the board, and residents, need to understand what affordable means, beyond the conventional 80% of market value.
With a vastly inflated housing market you may find that the 80% doesn't actually reflect what's affordable in light of local salaries. Sweat equity is one way to contribute to the affordability of a project, with members doing work themselves to bring costs down. However, this will usually extend the build time in comparison to having contractors do the work, which needs to be weighed up.
While you may have hugely enthusiastic and professional members, their skills won't necessarily be in housing development, so the board will need to decide which contractors are worth spending money on.
Key areas not to miss for affordability include the costs of services, which need to be factored in early, and the council tax on the final properties, which can be considerable if you create high-value homes or build large properties.
Finally, you'll also need to establish a mechanism to ensure the homes remain affordable in perpetuity, such as by requiring future buyers to be locals in housing need, with the CLT retaining a portion of the land value.
Richard Bacon MP, Task Force Ambassador and Chair of the All-party Parliamentary Group on Self Build, Custom and Community Housebuilding and Place-making also addressed the group.
The rest of the day was taken up with panel debates and masterclasses, including:
• Right to Build Registers and assessing demand, Mario Wolf with Lin Cousins, Three Dragons)
• Mortgage and finance availability, Raymond Connor, BuildStore
• How to implement Right to Build, Roy Williams, Ministry for Housing, Communities and Local Government
• How to facilitate building plots, Mark Stevenson, Potton
• Planning for Custom and Self Build housing, Sally Tagg, Managing Director, Foxley Tagg Planning Limited
• The neighbourhood planning dimension – how to incorporate Custom and Self Build into a Neighbourhood Plan, John Palmer, Enhabit Ltd