2014's challenge! Design a development of 20 homes for a city site that can be built for less than £75,000 each
2014 was the second year that we ran this competition in association with Grand Designs Live. We sought innovative ideas for a group self build project in a typical urban location.
The Self Build on a Shoestring in the City ideas competition was open to anyone – though entrants had to prepare detailed drawings, and assemble some carefully worked out construction costs. As this is an ideas competition, there was no commitment to develop or build the winning scheme.
Entries for this competition closed on Friday 19th September and the winner was revealed at the Grand Designs Live exhibition at the NEC in Birmingham on Thursday 9th October.
We are grateful to British Gas, who sponsored the prize fund.
The winning team included architect Levitt Bernstein, housing provider Circle Housing and a recently formed self build community group, Naked House; the collaborative was presented with its by TV presenter Kevin McCloud and British Gas' Head of Housing Ande Pickering at the ceremony at Grand Designs Live (pictured below).
Its solution – called SHELL – provides a professionally built, highly-insulated timber framed 'envelope' that individual self builders can then adapt and complete themselves. The basic SHELL is made using structurally insulated timber panels that are manufactured in a factory and then bolted together on site by a main contractor.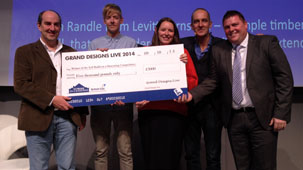 Once the SHELL has been built the home owners complete their apartments to their preferred layout and design. The team calculate that the average construction cost of each home built according to this plan would be just £70,076 (plus the cost of the land).
Following the ceremony the winners revealed that they are trying to progress plans to collectively build their own homes following their winning model.