Chair of the National Custom and Self Build Association Michael Holmes looks back at the association's achievements for the sector and Right To Build over the past 12 months.
Throughout 2017 NaCSBA has continued its successful track record of recent years, promoting custom and self-build as a mainstream housing choice.
Most notably, activity has been centred around capitalising on the implementation of the Right To Build legislation which came into force last year.
This requires all English planning authorities to manage a Right To Build demand register, and ultimately permission sufficient serviced plots to match the number of individuals and groups of individuals on the registers, within three years of signing up.
Central Government Engagement
With the Government's focus on building more homes, NaCSBA has maintained and developed its close relationship with Government.
It has liaised with the Number 10 Policy Unit and key ministers, including Secretary of State for DCLG Sajid Javid, and Housing Minister Alok Sharma.
In parallel, NaCSBA has continued to work closely with DCLG, helping the sector establish the parameters for the Right To Build, including participating in a series of DCLG led seminars for Local Authorities.
This ensured the custom and self-build sector fed into the Housing White Paper earlier in the year and the Autumn Budget. While NaCSBA strongly feels that there is more to be done, significant White Paper wins intended to make it easier for people to build their own home included:
Support for the Right To Build Task Force and Portal,

More land for smaller sites coming to market, including windfall sites,

CIL exemption for custom and self-build to be retained – for now,

Support for small- and medium-sized enterprise businesses,

The £3 billion Home Building Fund – which expressly supports custom build,

Requiring developers to build within two years of planning permission,

Greater financial support through better lending, and

Incentivising downsizers to move.
While the Autumn Budget didn't specifically reference custom and self-build, it did further boost the Home Building Fund and confirmed plans to consult on requiring local authorities to bring forward 20% of the housing supply on small sites.
Scottish Government Engagement
NaCSBA's Scottish work group, led by Angela Doran of Glasgow City Council and with the leading players in the custom and self-build market in Scotland has continued successful talks with Scottish Government officials responsible for planning and housing policy.
A meeting with Housing Minister Kevin Stewart has resulted in further support for the sector, including the rolling out of Self Build Loan Fund first trialed in the Highlands, plus a Self and Custom Build Challenge Fund.
Scotland has seen a 20% increase in planning permissions granted for single new dwellings in 2017.
Welsh Government Engagement
NaCSBA has remained engaged with representatives of the Welsh Government responsible for planning and housing and contributed to the consultation on the National Development Framework for Wales which will inform future housing policy.
Wales has seen a dramatic increase in planning permission granted for single new dwellings in 2017, up by 50%.
Local Government Engagement and the Right To Build Task Force 
NaCSBA's biggest achievement of the year was the establishment of the Right To Build Task Force, led by Mario Wolf, on secondment from DCLG where he has previously advised on custom and self-build .
Funded by The Nationwide Foundation for three years, and based on the successful Dutch model, the Right To Build Task Force engages with a range of stakeholders looking to bring forward opportunities for custom and self-build homes with an emphasis on the delivery of affordable homes.
The Right To Build Task Force provides clients with subsidised expert advice, including community led housing groups, local authorities, local enterprise partnerships and housing associations. It also provides paid for consultancy to landowners, developers and others in the private sector wanting to bring on self- and custom build homes.
A key role of the Right To Build Task Force is working alongside DCLG to help local authority planners understand how to implement the Right To Build legislation and how they can ensure sufficient serviced plots are granted planning permission.
You can find out more about the Task Force, as well as how to get involved, at the Right To Build Toolkit.
Right to Build Expos                                                                 
In order to raise awareness of the Right To Build Task Force and create a wider understanding of the potential for custom and self-build to deliver greater housing choice, NaCSBA, the Task Force and Wood for Good are currently delivering a series of Right to Build Expos.
The first two Expos were held in Aylesbury and Wellingborough, both areas where the Task Force has worked locally to successfully bring on custom and self-build.
This work helped secure 165 serviced plots at Aylesbury Woodlands, and a range of custom build plots with a local connection as part of the Tresham Garden Village, in Northamptonshire.
More expos will be taking place throughout 2018 – keep an eye on the Right To Build Toolkit to find out when one is coming to your area.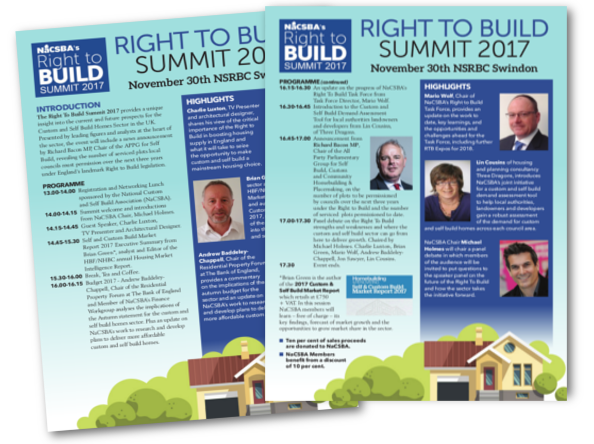 Custom and Self-Build Demand Assessment Tool
Key to informing housing strategy and plan making within local government is evidence of demand to feed into the Strategic Housing Market Assessment (SHMA). Currently, local authority planners are unable to source any objective, reliable, independent evidence of demand in their region for custom and self build housing.
The Right To Build Registers go some way to resolving this by providing evidence of current demand, but they do not project demand of the 5, 10 and 15 year periods which local planning authorities must model in their SHMA.
If the custom and self-build sector is to grow, land must be specifically allocated to be brought forward as serviced plots, but this will not be possible without an evidence base.
A joint NaCSBA initiative with Three Dragons planning consultancy aims to meet the requirements of local plan makers in assessing demand for custom and self-build housing through the development and introduction of a robust Demand Assessment Tool.
Three Dragons has a long and successful track record in building demand modelling tools and the Custom and Self-build Demand Assessment Tool is now ready for testing with a sample group of local authorities.
It will then be fine-tuned and released to the market in 2018.
Garden villages and towns
NaCSBA sees huge potential for the new garden communities to include a range of custom build and self-build opportunities, and has met with DCLG and the Garden Cities Alliance to this end.
We are pleased to report that most of the first round of Garden Villages announced include a significant proportion of serviced plots for custom and self-build homes.
Finance
NaCSBA's finance working group has been working hard to improve the financial picture for the sector, both on a development and personal finance level.
This includes engaging with: BuildStore's Building Society conference, UK Finance, the Bank of England Prudential Regulation Authority Supervisory team and a range of individual mortgage lenders.
In addition to the supportive Home Building Fund getting continued government backing, this campaigning has helped increase the supply of mortgage products for the sector.
In particular, NaCSBA welcomed the arrival of Virgin Money to the custom build sector, which represents the first new major mainstream lender to bring forward mortgage finance specifically for custom build.
Custom build homes
The key to providing tailored homes at scale and with scope for offering improved affordability, custom build housing offers more people the chance to be involved with creating their own homes. But the route needs support to refine models and communicate these to the public, as well as local authorities.
To this end, NaCSBA's Custom Build work group, led by Gus Zogolovich is working with a range of developers to support this new growth area, building on successes and helping to knowledge share.
Self Build On A Shoestring Competition
Held in conjunction with NaCSBA corporate partners Media 10 and Grand Designs Live, this year's 'Self Build On A Shoestring Competition' challenged entrants to design an affordable route to housing delivery for older generations.
The brief also required the use of off-site or modular manufacturing as a means to scaling up the design to create a community.
Inglis Badrashi Loddo was awarded the £5,000 prize at Grand Designs Live Birmingham for The Apple Yard, an innovative scheme based around a 42m² offsite home, with units costing an incredible £40,000.
NaCSBA's Right to Build Summit
November's  Right To Build Summit 2017 was held at the excellent National Self Build & Renovation Centre in Swindon.
It gave NaCSBA members, and other stakeholders, the opportunity to find out more about recent NaCSBA campaigns, as well as gain insight into the sector and the success of the  Right To Build to date from key industry figures.
These included TV presenter and self-build enthusiast Charlie Luxton who emphasised the ecological benefits for the planet of more sustainable custom and self-build homes, and the local economic benefits of custom and self-build versus national housebuilders.
Brian Green, author of the Self and Custom Build Market Report 2017, gave a fascinating insight into the potential of the sector, its current scale and what it requires if it is to scale up to become a mainstream housing choice.
Andrew Baddeley-Chappell, Chair of the Bank of England's Residential Property Forum summarised the implications for the custom and self-build sector of the budget, and what measures are required to improve affordable access to custom and self-build homes.
National Picture of Custom and Self-build Registers
With October 31 marking the first full calendar year of the registers existence, NaCSBA put in a Freedom of Information request for every English Authority, with the results timed to be released at the November Summit.
The data showed that the Right To Build registers now have 33,000 people signed up, an 80% increase on the previous total .
Councils across the country must therefore bring forward 33,000 permissioned serviced-plots by 31 October 2020, with roughly half that amount by October 2019.
NaCSBA's Plans for 2018
NaCSBA has achieved a huge amount in recent years by addressing head on the challenges that face the sector.
It has managed to secure an exemption from CIL, exemption from s106 contributions, headed off financial regulation that would have starved the sector of stage payment mortgages and ensured self-builders have sufficient time to recover the 3% Stamp Duty Land Tax surcharge on many plot purchases.
In addition, it has secured billions of pounds in public sector funding support and overseen the introduction of the  Right To Build legislation, which has seen the number of planning permissions for single new dwellings grow by 24% in 2016 and 32% in 2017.
None of this would be possible without the financial support of NaCSBA's members and partners.
We have equally ambitious plans for 2018 onwards, aiming to grow the sector to become a mainstream housing choice delivering 30-50,000 new homes by 2030. This will not be possible without your continued support, which we thank you for.
We are proud of what we have achieved and ambitious for the future of the sector. Please keep up your support for NaCSBA and its work. Help us by asking others in the sector who benefit equally for the growth NaCSBA is delivering, to do their bit to help.
Keep an eye out for news on NaCSBAs objectives for 2018 to be announced early in the new year.