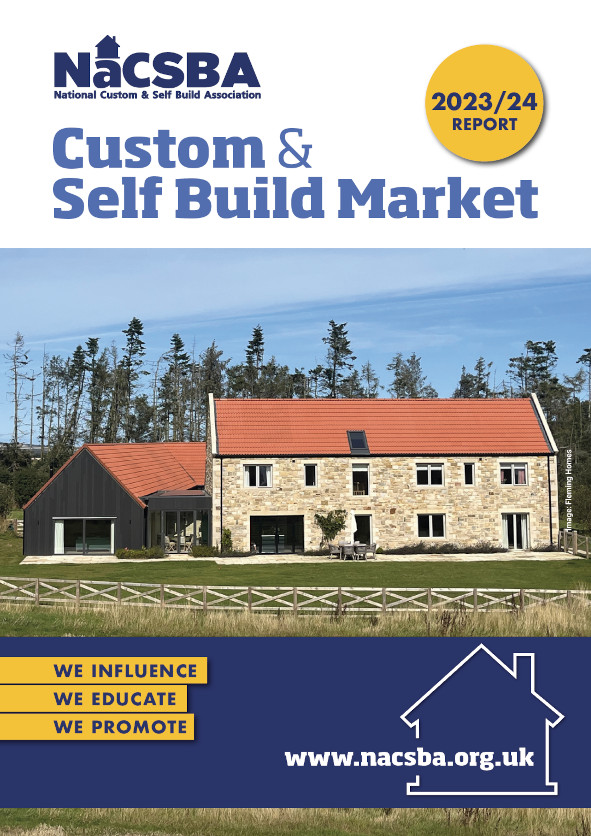 NaCSBA's 100 page Custom and Self Build Market Report is the annual source for insight and data into the latest for anyone conducting business in the custom and self build sector.
The 2nd edition of the Custom and Self Build Market Report will ensure your business is empowered to make the right decisions for growth, to capitalise on this growing market.
£295, or free for NaCSBA members*.
Buyers will be sent the digital report, with a print copy posted to the address linked to your Paypal invoice. Please email media@nacsba.org.uk using subject matter CSB Report purchase if you do not receive the digital copy, or you need to change the postal address.
*NaCSBA members will receive the report via email, email the address above if you have not received your copy.
Please note, once purchased the report can be used within your organisation but should not be shared externally or hosted online/published. If you wish to use extracts of graphs please confirm usage with us on the email above. Thank you.
Download the four-page summary for free by completing our short form
Custom and Self Build Market Report 2023/24
The 2nd edition of the Custom and Self Build Market Report, 2023-24, provides invaluable insight and empirical evidence on activity in custom and self build. It includes insight around planning and examples of models, as well as an in-depth look at policy, practice and definitions, with detailed analysis. Commentary and research is all original, and previously unpublished.
The report sets out the current legislative, policy and guidance that frames custom and self build delivery in England, and the rest of the UK, as well as the policy priorities for NaCBSA. For example, NaCSBA continues to press the case for owner commissioned homes, both with government and industry but also wider organisations and issues that impact practice, such as the Competition and Markets Authority' review into housebuilding and Biodiversity Net Gain.
It offers insight with reviews of processes and activity that enlightens practice, such as recent planning appeals around custom and self build registers and a review of Graven Hill's first ten years, with lessons that support the scaling up of custom and self build. The report also offers a detailed look at custom build models and definitions.
With regards to data it shares analysis of new research, including the aspirations and expectations of those looking to build, data around the Right to Build registers, the economic and energy benefits of building an owner-commissioned home (as opposed to typical market-built housing) and NaCSBA's own Business Confidence Survey.
Setting the scene
Welcome
Foreword
Executive summary
List of NaCSBA members
Government policy
National policy to 2023
Policy today
Competition and Markets Authority – potential  implications
Bacon Review – 'House Extension 2023' update
Legislation review of process
Across UK
Policy – wider issues
Timeline of activity
Market insight
Policies for supporting custom and self build
Graven Hill – ten years on
Review of custom build models
Data Analysis
Registers: Right To Build data – LIVEDIN
Demand Data Analysis  – NaCSBA
Aspirations survey – NSBRC/NaCSBA
Data evidence of local benefits of CSB – Task Force
Business Confidence Survey – NaCSBA members
Thank you to the sponsors of the Custom and Self Build Market Report 2023/4