Designing A Simple Self Build Home For A Family Of Four That Can Be Constructed For Less Than £50,000
This unique ideas competition was launched in 2013 to look for designs for an innovative 'self build friendly' home that can be constructed for less than £50,000.
The competition is designed to showcase designs for clever sustainable homes, and to that prove that a low cost home can also be a very attractive one too.
It requires the design to meet current UK Building Regulations. And all entrants have to include a detailed cost report that itemises the materials used and their cost.
The results of the 2013 competition were announced during a ceremony at Grand Designs Live on 5th October 2013.
The winning design was submitted by architect Ed Green; an associate with Cardiff based Pentan Partnership. Mr Green was presented with his cheque by TV presenters Kevin McCloud (both pictured below) and Charlie Luxton at the ceremony at Grand Designs Live. The innovative self build house utilises an incredibly low cost off-the-shelf agricultural barn structure to form the basic 'envelope' for the property. The two/three bedroom home that sits beneath this 'envelope' is very generously proportioned (100m2) and super insulated – yet costs just £41,000 to build.
Following the ceremony the competition has received significant media coverage both in the press and in specialist architectural magazines.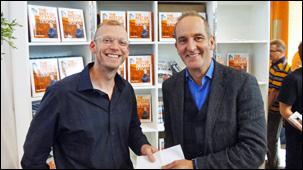 Mr Green has been contacted by interested parties from as far afield as France, Romania and Bulgaria, in addition to enquiries from over 150 self builders who are keen to work with him.
He has also been asked to present evidence on how to deliver low cost housing at the request of the Welsh Government.
Many of the 'Shoestring' finalists also convened at a round-table discussion event in London to analyse their projects.