Recently released figures demonstrated that annual housing supply in England rose by 9% against 2017-18 performance, equating to 241,130 net additional dwellings in 2018-19.
This is made up of 213,660 new build homes, with 29,260 created from change of use between non-domestic and residential, of which 14,107 new dwellings were created through the controversial permitted development rights, with 12,032 coming from former office buildings converted to new dwellings. The total numbers were offset by losses of 7,940 demolitions.
Office-to-residential conversions have attracted considerable criticism for creating sub-standard homes that are often very small and, as they don't require planning permission, they do not need to make contributions, such as to affordable housing. While reputed to be profitable for landlords and landowners, the buildings are uniformly dogged with accusations of inadequate living conditions.
At 12,032, the number of annual office-to-residential new dwellings has approached the annual output of the Custom and Self Build sector – roughly are 13,000 homes per year. In comparison to converted office buildings, owner-commissioned homes have far higher quality of building, contribute to local economies, boost work-flows for SME builders and engender a sense of community on multi-plots sites.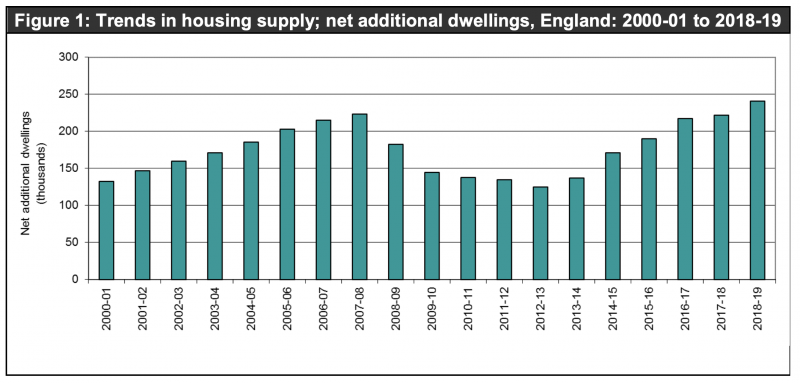 Source: MHCLG Housing Statistical Release
Despite the fact that the figures vary across the country, creating an uneven picture of new housing provision, the figures will be welcomed by Government as it marks progress towards its goal of 300,000 new houses a year by the mid 2020s, as announced in the 2017 Budget by then Chancellor Philip Hammond. However, earlier in the year the Public Accounts Committee highlighted several issues with the likelihood of Government reaching this target in its New Housing in Jeopardy report. 
The Home Builders Federation (HBF) also welcomed the news, commenting that housing supply was the highest since the 1980s and reflected buoyancy in the market that bypassed fears around Brexit and its political and economic uncertainties. It also reported that its Housing Pipeline report, published with Glenigan, showed that nearly 380,000 permissions were granted in England in the year to June – to be built out over the next three or four years. This figure points a commitment by the house building industry to meet Government targets, matched by investment in new sites and creating skilled workers.
Stewart Baseley, Executive Chairman of the HBF said; "Today's numbers show the huge progress made by the industry as we look to meet the country's housing need. Alongside much needed homes, the increases are boosting local economies up and down the country, creating tens of thousands of new jobs and delivering much needed investment in infrastructure.
"We need politicians to continue to work with us and develop policies that enable further increases to be delivered. We need to see policies that ensure buyers can buy and that enough land comes forward in the right places quickly and efficiently. We also need to see more support for SME builders and specialist providers to ensure the supply base continues to grow. The industry is absolutely committed to delivering the high quality, environmentally friendly homes that people across the country's communities need."