The long awaited Building Better, Building Beautiful report has been launched by Government, calling for a more clearly and visually defined level playing field for small to medium size enterprises, self builds, custom builds and other market innovators.
The report sets out a vision of a "fast track for beauty" as well as a recommendation for Government to slash VAT on renovations and repair work. Other recommendations include: planting millions of trees, increasing democracy through greater community involvement in local plans and planning applications, and meeting climate challenges through greater use of offsite technology.
The findings are good news for custom build developers and enablers, as homes produced by the sector are typically greener, with a greater reliance on Modern Methods of Construction and offsite technology. In addition, serviced-plot sites often have a greater sense of place-making than large scale developments, with communities happier to see them built in comparison than sprawling estates.
The report makes very clear links to the planning system not placing enough value on beauty, although not how this is measured, but its emphasis on creating more attractive places should play well into the plans of custom developers. It recommends that more prescriptive policies are established relating to design, infrastructure and placemaking, offering greater surety to the planning application process. These could frequently be manifested in design codes, as used on custom build sites, offering guidance about what is and isn't acceptable locally.
In particular, it states:
We need a clearer approach to reduce planning risk and to permit a greater range of small firms, self-build, custom-build, community land trusts and other market entrants and innovators to act as developers.
It also calls for a virtuous circle, a fairer approach to land use planning to ensure that a higher proportion of developments are beautiful, popular and boost existing places, offering greater well-being for residents.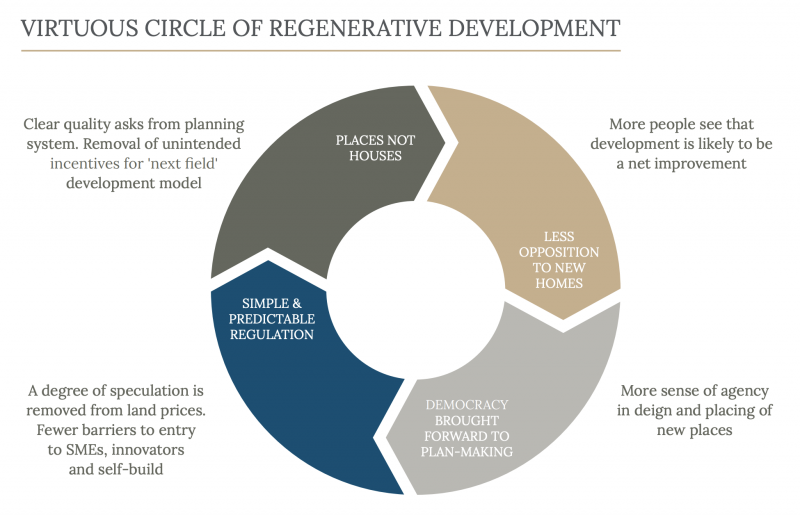 Announcing the launch of the report, Housing Secretary Robert Jenrick said "we need to demand beauty, not just for exceptional schemes that win awards, or which are the preserve of the wealthy, but for the places everyone lives in and the places we pass by every day."
He went on to say: "It can't be right that those individuals, those people who should be held up as the best and the brightest, people who are setting out to create communities as shining cities on a hill. That those individuals to be held up by the planning system and to be treated like the rest.
"They should receive an expedited planning process or even be removed from the planning system altogether with new, more sophisticated planning freedoms. And that's what we are going to do. The planning system must reward good design."
In addition, Jenrick also stated that he wanted to see zero-carbon homes built as standard within five years, further emphasising a commitment to a greener building sector.