In the undertaking building work guide:
Managing risk
Who must NOT work?
Clarity around contracts
Scheduling work
Materials
Insurance
Finance
Health and safety
Safety on site
Online security
Reporting illness
Getting tested
Working in a home with residents
Are local planning authorities still operating?
What are the other UK countries doing?
Introduction
With another lockdown underway, NaCSBA has updated its guidance for working safely on site to assist both individual self builders and companies when undertaking building work.
Government guidance in England continues to allow people to work on site for house building, which includes self builds. But the need to work safely remains an imperative. 
This guide is intended to support self builders and businesses about what practices they should be following to ensure they are operating safely. It is intended as a signposting document to support businesses and individuals in their decisions about how they work. It draws extensively on a range of industry knowledge and should be read in conjunction with wider national guidance.
The priority on any building site is people's safety, which should be the first principle for all activity, and every decision should be weighed against this.
The rules in Scotland are completely different, and practices in Wales and Northern Ireland may vary so check national advice: Scotland, Wales and Northern Ireland.
If you want to get in touch to report barriers for the sector during the crisis please email us.
The Government has producing a new set of COVID-19 Secure Guidance for work, that sets out parameters for work, as well as advice for assessing risk, to work out if an activity can be conducted safely.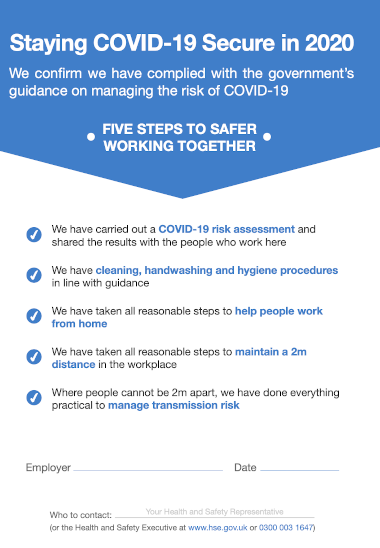 Returning to work
Disclaimer
NaCSBA is providing this information as general guidance only, and in no way is it a definitive or legally binding. Official advice is routinely updated and any decision makers must be confident that the decisions they make about returning to work are robust and reflect the latest Government and industry guidance. Therefore, it is also recommended that any plans  include regular reviews for safe work practices.