On 16 May NaCSBA hosted a parliamentary reception, hosted by Richard Bacon MP, to launch its Custom and Self Build Market Report, the inaugural publication of this annual overview of the sector.
Sponsored by Ecology Building Society, the event had a range speakers advocating the route and the need for new approaches to facilitate better approaches to housing, including (from left to right, above) NaCSBA's CEO Andrew Baddeley-Chappel; MP Richard Bacon and Chair of the APPG on Self-Build, Custom and Community Housebuilding and Placemaking; Secretary of State for Levelling Up, Housing and Communities Michael Gove MP; Louise Pryor, Chair, Ecology Building Society; and, Chris Young, QC, No5 Barristers Chambers.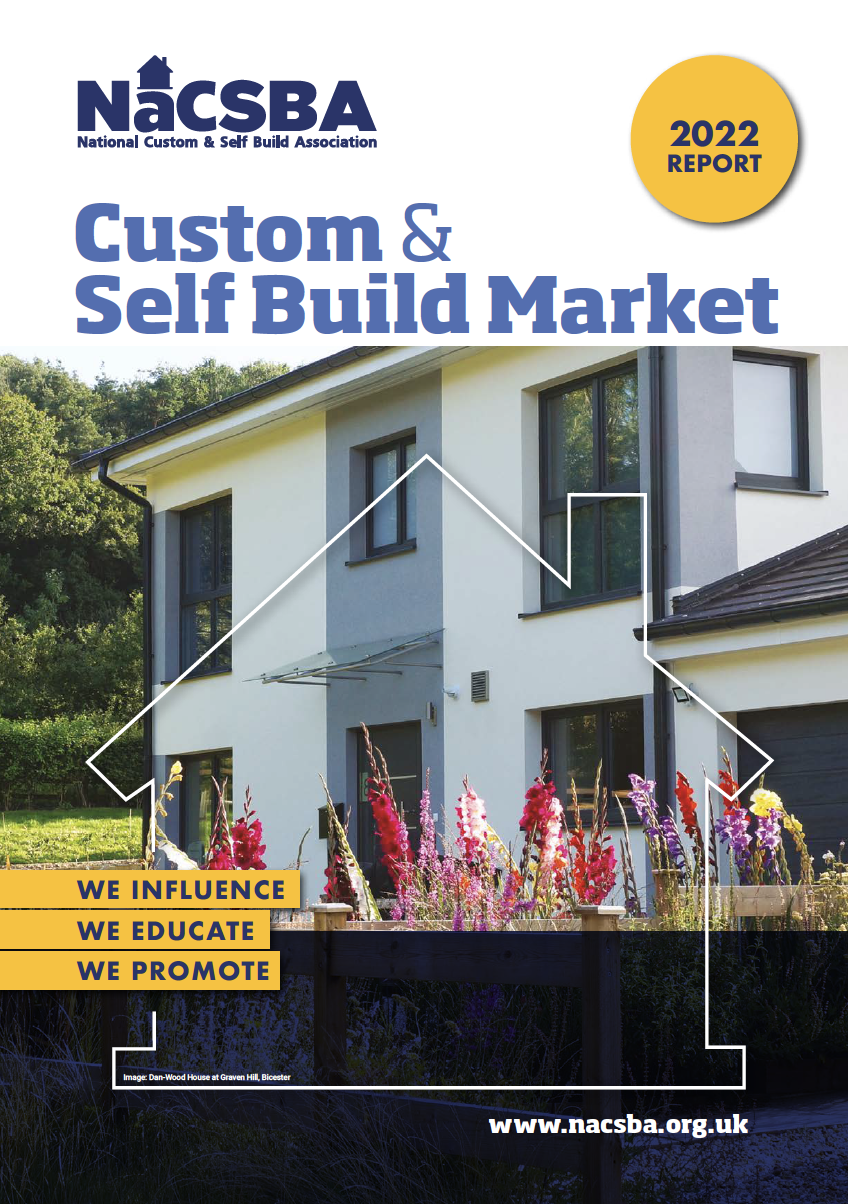 The Custom and Self Build Report represents the most comprehensive suite of data about the industry to date, and is a core resource for anyone operating in, or considering joining, the sector. The report includes NaCSBA insight on a range of areas impacting on the sector, as well as industry insight on planning, sustainability, custom build, the German market and building materials, written by companies operating in the sector. This is supported by the data from a range of surveys, which reflects the aspirations of both the general public, including people already interested in the model as well as those who are not engaged at all. This is supplemented with a brand new survey of those people who have built already, tracking their experiences and the pain points they went through.
Together this forms a robust source of data to support business decisions and applications for sites.
The report is available for free to NaCSBA members as a member benefit, and is also available to purchase as a hard and digital copy for £295 + £3 p+p.
On purchasing you will be sent an email within 24 hours containing the digital report, and the print copy will be posted to the address linked to your Paypal invoice. Please email media@nacsba.org.uk using subject matter CSB Report purchase if you do not receive the digital copy, or you need to change the postal address.
Please note, once purchased the report can be used within your organisation but should not be shared externally or hosted online/published. If you wish to use extracts of graphs please confirm usage with us on the email above. Thank you.
Results of the 2022 survey
The results of the latest survey of those people who had completed a build in the last five years reflected sustainability was high on the agenda for anyone commissioning their own home, with 1 in 2 builders including a sustainable heat source on their project.
Self and custom builders were also shown to be important industry pioneers, with over half choosing to build using Modern Methods of Construction (MMC) for their homes, proof that the public is accepting of alternative models of construction, especially when they can contribute to improvements such as speed of building or sustainability.
The ability to have choice in how they live remained the largest driving factor behind why people pursued an owner-commissioned home, proving that people were seeking something in their home that was not available in the average new build market. Considered with the fact that many factor in sustainable heating and MMC, this demonstrates that most people's choices contribute to better built and more sustainable homes – an example of how construction can have more positive outcomes when people are involved in the process.
Those who had built were so committed that over 90% would recommend the process, while 94% of prospective self-builders said they would not buy a speculatively built-new home if they could not self build (NSBRC Survey, 2021).
Unsurprisingly, the most significant obstruction to self building remained sourcing a plot, with securing planning permission featuring as the second largest barrier to progress.
Awareness of the the Right to Build legislation continues to remain low, and NaCSBA encourages more councils to promote their registers. It will be analysing the latest Right to Build data, recently published by DLUHC.
Andrew Baddeley-Chappell, NaCSBA CEO said: "This first ever NaCSBA annual Custom & Self Build Report is essential reading for all those keen to access quality insight, analysis and data on the sector and on the views and aspirations of past and current self-builders. It is a stark reminder of what the new homes market could and should be about – quality, sustainability, community and value."
Report contents
GOVERNMENT POLICY
National policy to 2021 Timeline of activity
Policy today
Bacon Review
Help to Build
Legislation review
Across the UK
Other policy priorities
MARKET INSIGHT
Planning matters – Tetlow King
The inspirational Graven Hill story – Graven Hill
Promoting sustainable lending – Ecology Building Society
Access to materials and labour – Richard Coles Building
Review of Germany's housing market – Dan-Wood House
DATA ANALYSIS
Registers: Right To Build data 2016-2020
Consumer attitudes survey – BSA/NaCSBA
Aspirations survey – NSBRC/NaCSBA
Custom and self build market survey – NaCSBA/industry
VAT: assessing market size – VAT returns/Glenigan data
CSB Market Report 2022 – sponsors
The report wouldn't have been possible with the help of our sponsors, who we are very grateful to them for supporting NaCSBA's work to grow the custom and self build sector.
House of Commons Reception (all the Report Sponsors, from left to right) Andrew Baddeley-Chappell, NaCSBA CEO, Cllr Ian Corkin, Oxfordshire County Council, Lucy Yendell, Sales Agent, Dan-Wood House, Karen Curtin, Managing Director, Graven Hill Village Development Company, Andy Moger, Director, Tetlow King Planning, Richard Bacon MP, Michael Gove, Secretary of State for Levelling Up, Housing and Communities, Louise Pryor, Chair, Ecology Building Society, Richard Coles, Owner, Richard Coles Building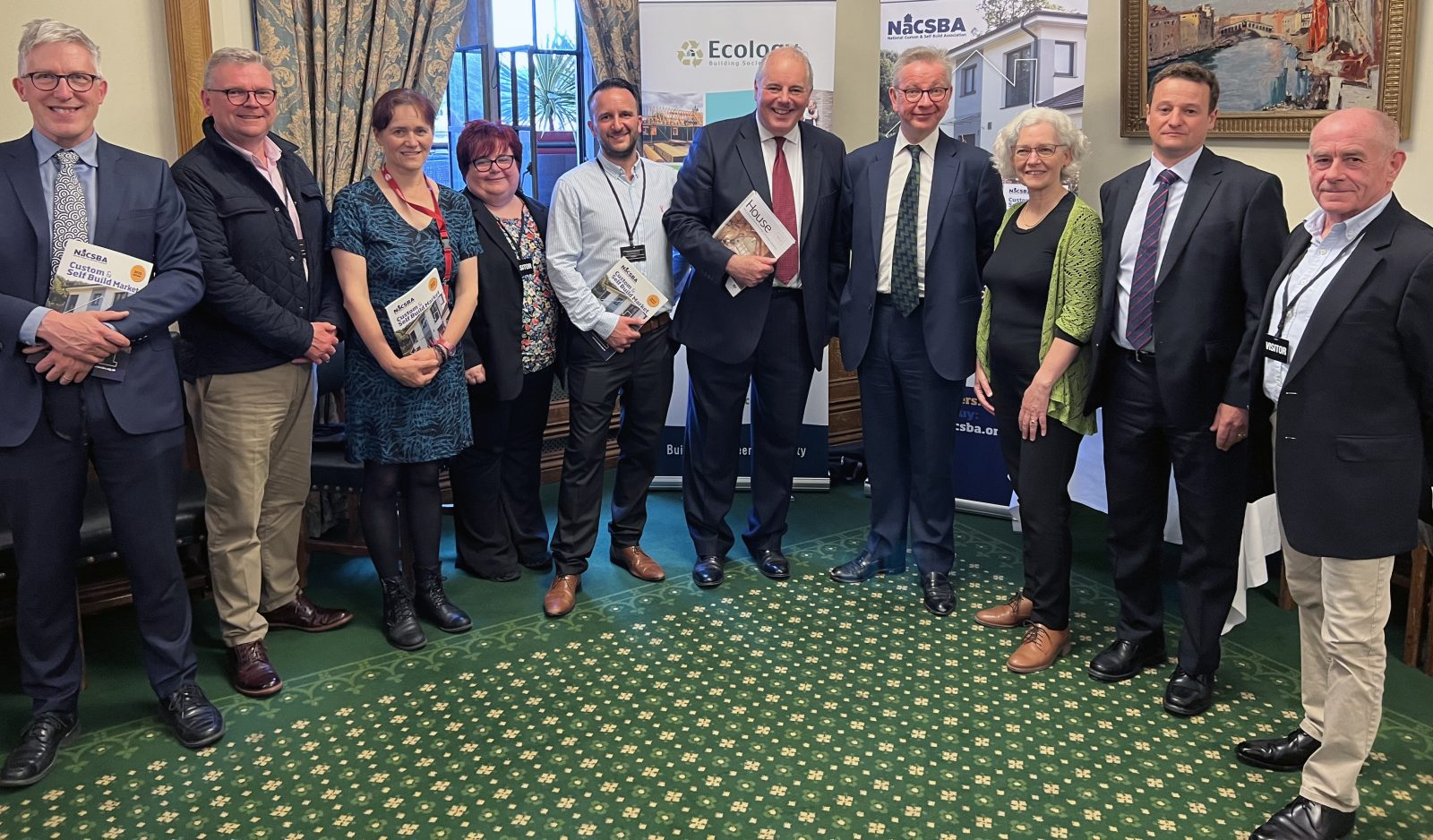 ---