The Right to Build Task Force, in association with Trowers & Hamlins, is running a Custom and Self Build training event offering best practice and advice on the practical delivery of owner commissioned homes. Taking place on the 15 October in London, the training focuses on the implementation and fulfilment of the duties imposed by Right to Build legislation as it supports the sector, which Government identifies as a valuable route to additional, and diverse, housing supply.
Ideal for local authorities, the event has been structured to support planning, housing and built-environment professionals.
With over 40,000 people now signed up on local authority Self Build and Custom housebuilding registers, planning for opportunities to meet demand from people wishing to commission or build their own homes is now a key part of delivering a sufficient supply of homes and the drive to diversify our housing market.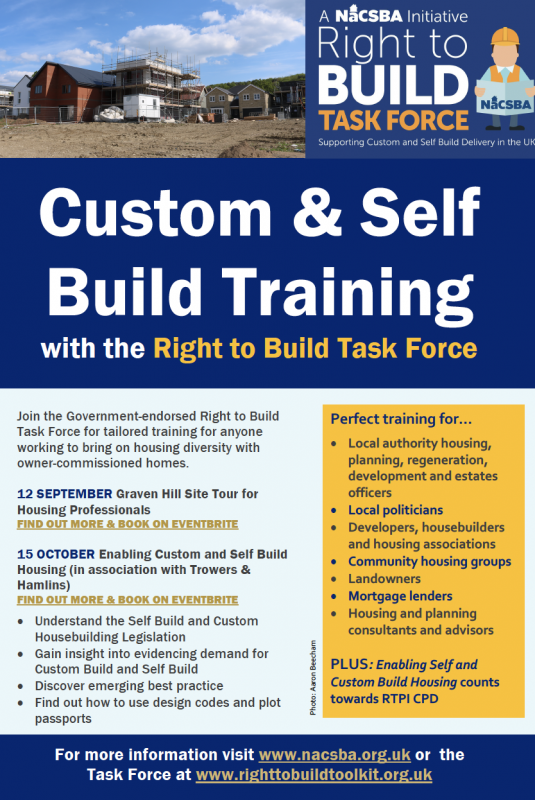 Scroll down for large version or click here to book
The Custom and Self Build housing sector is growing fast, and an increasing number of projects and initiatives are coming forward in response to primary legislation, Government planning policy and related guidance. Together these set the framework for enabling the provision of permissioned serviced building plots to meet local demand.
However, as with any nascent industry there remains a lot of practical delivery questions around the sector, which the Government-endorsed Right to Build Task Force is qualified to answer. This training session has been designed to comprehensively cover the implementation of the 'Right to Build' legislation set out in the Self-build and Custom Housebuilding Act 2015 and the revised National Planning Policy Framework.
This training event has been made possible with the support of Trowers & Hamlins, an international law firm with a long-standing reputation for supporting and facilitating business and government working together. The firm regularly organises learning events and seminars.
"Following our involvement with Cherwell District Council in setting up the highly successful Graven Hill self-build project, Trowers & Hamlins is delighted to support the Right to Build Task Force's programme to help other local authorities deliver their self-build and custom build projects. We are looking forward to sharing our experience and contributing to the delivery of this important initiative," said James Hawkins, Partner.
NaCSBA members can benefit from a discount off the training session, and for RTPI members the training could contribute to your CPD*.
It also addresses how Custom and Self Build housing can be effectively delivered in this context, focussing on four key topics.
What will the training cover?
Through a combination of expert trainer presentations and knowledge-sharing between delegates, attendees will:
Learn more about key elements of Right to Build legislation, how local authorities are applying it and the scope of their duties and powers.
Discover emerging practice coming based around the Self Build and Custom registers
Learn about the relevant aspects of revised National Planning Policy Framework, and how the sector can work in conjunction with affordable housing.
Understand assessing Self Build and Custom house building demand can inform local plan policies and support project delivery.
Find out about the role that Design Codes, Plot Passports and Local Development Orders can have in facilitating Custom and Self Build housing on larger sites, learning from the UK's biggest project to date – Graven Hill.
Gain insight into the effective use of planning obligations and conditions to secure the timely delivery of Self Build and Custom house building on sites.
Outline running order
1215 Registration and sandwich lunch
1245 Welcome and introduction from the Right to Build Task Force and Trowers & Hamlins
1300 The Self-Build and Custom Housebuilding Act 2015, supporting Regulations and national planning policy – what does it mean and what progress are Councils making, with examples of good practice
1340 Design Codes, plot passports and Local Development Orders to support Custom and Self Build housing projects on larger sites – experience from Graven Hill
1420 Coffee break
1445 Understanding demand to inform the preparation of Local Plans
1525 Securing Custom and Self Build development through the planning application process – the role of planning obligations and conditions
1605 Summary of key points and next steps
1630 Finish
Enabling Custom and Self Build Housing
Date 15 October 2019
Time 12:15-16:30
Cost £299 +VAT per person, discounted to £249 +VAT per person for National Custom and Self Build Association members
Location 3 Bunhill Row, London, EC1Y 8YZ
The Right to Build Task Force is a NaCSBA initiative set up with the help of the Government and the Nationwide Foundation to support the delivery of significantly more affordable Custom and Self Build housing projects across the UK.
Image: Graven Hill, the UK's largest Custom and Self Build site
Note from the RTPI:*The RTPI is not prescriptive about the types of activity that count as CPD, recognising that you are the best person to assess the value of an activity to your professional development. However, nothing should be automatically accepted as CPD unless you have personally learnt from it. When considering whether an activity counts as CPD you should initially refer back to your Professional Development Plan to see whether it will help your development objectives. Find out more on the RTPI's website.