The English Housing Survey for 2019-2020 has shown a long-term rise in owner occupation, with an increase in the number of people owning second homes and a general trend for improved energy ratings for homes.
The data shows that there are 23.8 million households in England in self-contained accommodation, ie not institutional accommodation, such as halls of residence or nursing homes.
Owner occupation remained the biggest group, at 15.4m households (65%), which although unchanged from 2018-19, is an increase from the figure of 63% in 2016-17. The data also shows that, as 'baby boomers' age more have paid off their homes, with 35% of households being outright owners (30% were using a mortgage to buy).
For 2019-20 the average first time buyer age was 32 (outside London) with a (mean) average deposit of £42,433, meaning that 62% of FTBs were in the upper two quintiles for income.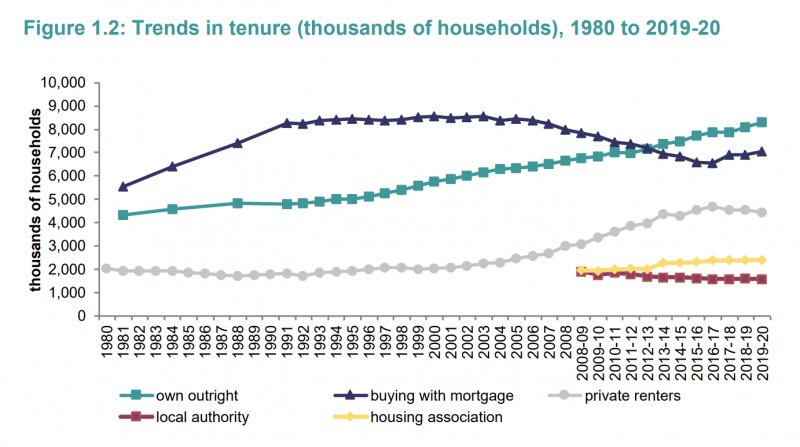 Taken over all, mortgaged homes remained more affordable than those that were rented, with owners spending 18% of their household income on mortgage payments, as opposed to 32% of income for the private rented sector.
Second Homes
The survey indicated that overcrowding across all tenure types is on the increase, with the social rented sector hitting an all time high of 8%, but even owner-occupiers increased slightly.
Both Inside Conveyancing and The Times reported on the fact that the number of second home-owners increased from 1.81 million to 2.44 million in the ten years up to 2018/19. This resulted in 3.75 million second properties in 2018/19, up from 2.68 million a decade earlier.
Energy-efficient homes
The Government's Standard Assessment Procedure (SAP) monitors the energy efficiency of homes, using a scale of 1 to 100 (with 100 = zero energy costs). The data showed a continued trend for improvements across most tenures, with the average SAP rating of 65, up from 45 in 1996.
Source: English Housing Survey