Well known to those in the industry, Graven Hill welcomed a group of students from University College London (UCL) to explore the site, which includes a range of custom and self build models.
The Housing and City Planning students received a guided educational tour by Gemma Davis, customer experience director, and Susan Weston, a self-builder herself and customer journey project manager at Graven Hill.
The visit was an opportunity to discover the story of the site, from its unusual starting point of being granted planning permission via a Local Development Order, to become the largest custom and self build site in the UK. As well as finding out about the range of housing on offer, the visiting students learnt about the financial support available to residents, such as Help to Build.
Susan also gave a first-hand account of her self-build experience, including the benefits of the site's 'Plot Passports', which can cut the planning permission process down to just 28 days.
NaCSBA welcomes this educational message, as a lack of understanding in the sector is a serious limiting factor on growth. These students will go on to be housing professionals, but with an understanding of some of the models the sector embraces, together with the policy and practice that shapes activity.
The course providers were drawn to Graven Hill thanks to the wide variety of housing options, from new build homes and apartments to self and custom builds, all of which the students were able to see on the day.
As an ongoing development, each stage of the construction process could be shown, providing valuable insight into the creation of a unique residential community that breaks the mould of conventional housing delivery.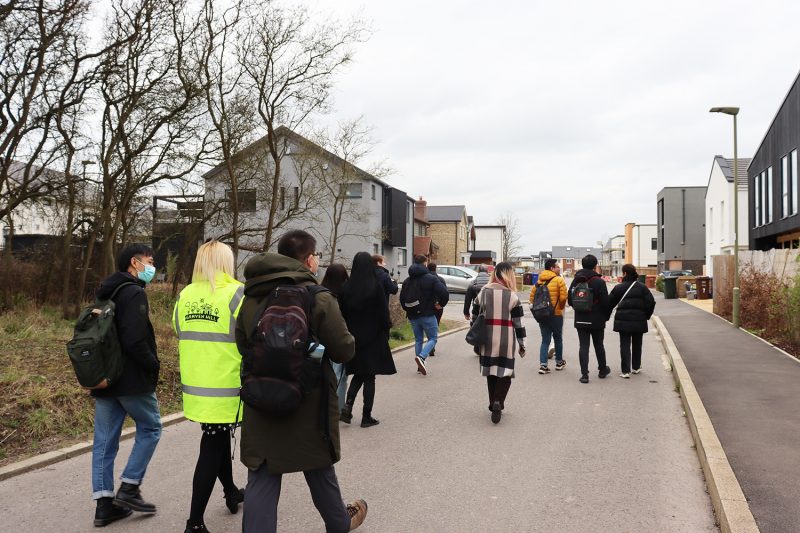 Graven Hill's goal is to offer an accessible way for people to own the home of their dreams, whether that means building from scratch, adding personality without the heavy lifting via custom building, or simply wanting to be part of a like-minded community.
Gemma Davis, customer experience director at Graven Hill, said: "Graven Hill is a development unlike any other in the UK, with choice and individuality placed at the forefront. We believe that this is the way forward for housing, and we hope that the students from UCL were inspired by what they saw. They are the future of the housing industry, and we'd be incredibly proud if they apply any ideas sparked by their visit to their work in the years to come."
Iqbal Hamiduddin, associate professor in transport, planning and housing at UCL, said: "Myself and the students had a superb visit to Graven Hill. We all got a lot out the presentations and the tour of the development, which is unique in so many ways. Despite its complexity, it is gratifying to see the progress that has been made to date – a scheme of real quality is emerging."
Read Self Build Homes, Hamiduddin and Michaela Benson's joint qualitative research on custom and self build in the Library CLICK TO ACCESS