Held as part of National Custom and Self Build Week, NaCSBA hosted an evening reception in the House of Commons as a networking event to help put Custom and Self Build on the agenda. Sponsored by Ecology Building Society, the reception focussed on a series of presentations, including (from L-R, above)NaCSBA CEO Andrew Baddeley-Chappell, Ecology Chief Executive Paul Ellis, presenter Kevin McCloud,Richard Bacon MP, Housing minister Kit Malthouse and NaCSBA Chair, Michael Holmes.
Due to limits on numbers the evening was open to all Gold Corporate members of NaCSBA and a few key industry professionals, but we'd like to share some of the salient points from speeches from the evening with all NaCSBA members and the wider sector.
Richard Bacon – MP and Right to Build Task Force ambassador
Richard celebrated the work of the Task Force, and pressed the need for a Help to Build programme that would level the playing field with Help to Buy, which is not available on Custom and Self Build home. This was a salient point touched on repeatedly during the evening, and revisited in the questions and answers to the housing minister.
This is a point that NaCSBA is discussing with the Ministry of Holmes, Communities and Local Government and the Treasury about the point where VAT is levied on a serviced-plot model, which it will keep its members up to date with when there's more news.
Paul Ellis – Ecology Building Society
Paul stressed the reputation that Ecology has in nurturing a greener society through ecological building practices and the creation of sustainable housing stock that helps create stronger communities and more sustainable housing stock. And key to this is Self and Custom Build, as well as community-led homes, which the Ecology has long been a supporter of, such as the U-Build home of Chris and Roxy on Grand Designs The Street. His ask of Government was that the 'future homes standard' of carbon efficiency would be robust, ambitious and durable, acknowledging that Custom and Self Build can play its part in reducing carbon emissions.
Andrew Baddeley-Chappel – NaCSBA
Andrew shared the unequal picture of the Right to Build legislation happening across England, as well as some of the more unsavoury practices surrounding charges and connection tests that NaCSBA's Freedom of Information request turned up. He went on to share some of the gains of the sector, and thanked NaCSBA's members, and those key stakeholders in attendance, for their role in supporting and growing Self and Custom build in the UK.
Kevin McCloud – Self Build guru
Grand Designs' The Street demonstrated that it is possible to create a better-built, more greener, more spacious and more beautiful home than you could possibly hope to afford in the market, said Kevin, at affordable price points. He explained that Graven Hill clearly demonstrates this, and that The Street aimed to bring this message to a wider audience.
But this should be available to everyone in the country, he said, as we shouldn't be demanding of people that they have to move across the country in order to self build on an affordable scheme – it should be available to everyone across our nation. Kevin stated that we have incredible energy and commitment in the form of the housing minister, and called for more council to show the innovation that Cherwell District Council did with Graven Hill. As he said, "Self build is here to stay and here to grow".
Kit Malthouse – Housing Minister
As the son of self builders who would himself like to Self Build one day, Kit stressed the importance the sector had for him personally but also in his mission to provide "more, better, faster", with 300,000 homes delivered by the mid 2020s.
He stressed that to reach this number the country needs to think differently across the board, and critically about who gets to build. Broadly speaking, everyone that wants to build, should be able to build, he said, and critically an enormous part of that should be Self and Custom Build.
Kit's four key benefits of Self Build:
It's the cradle of innovation as self builders trial new and different techniques and products;
It leads the way in design. As so much new development is criticised on its design, Self and Custom Build can be an advocate for new design as it's often fresh in its approach;
It contributes to a significant sense of neighbourhood, adding to a sense of belonging, place and dynamic. Self Build creates the sense of ownership in a new neighbourhood that's very valuable in placemaking.
The fundamental aspect of ownership.  The majority of people in the UK want to own their own home, which Government supports, and Self Build has enormous value in that you've invested in your home yourself, meaning that people have roots where they build.
Kit committed to carry on supporting the sector centrally, working with planning and finance to help more people build the houses of the future.
"Fundamentally we as politicians have to fulfil the promise that the lives of our children will be better than ours, and where housing is concerned that contract has broken down," he said.
"NaCSBA continues to provide leadership, expertise and experience to overcome sectoral barriers and challenges."
Kit Malthouse, Housing Minister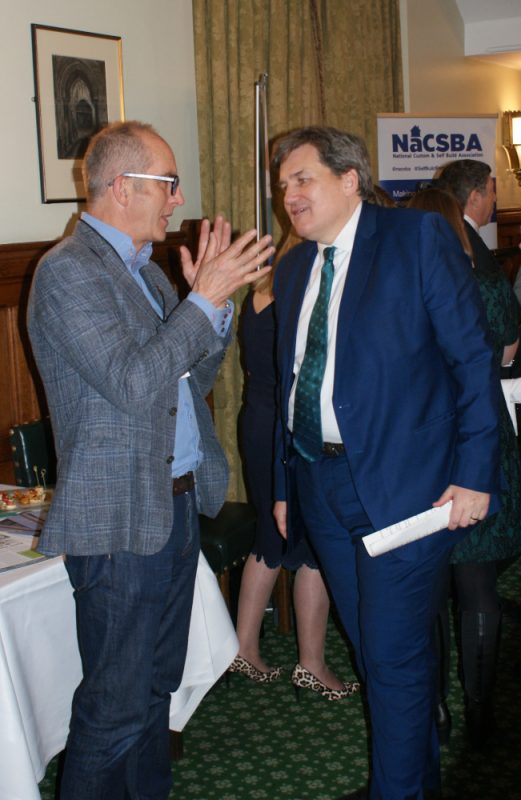 NaCSBA's House of Commons reception was part of its National Custom and Self Build Week, evidence of its work to make Custom and Self Build a mainstream choice for more people.