An application for 50 new custom and self build homes at Framlingham in Suffolk has been submitted by land promoter Leaper Land.
The application has been submitted to East Suffolk Council, with Leaper working with the landowner, multi-award winning architect Pollard Thomas Edwards and planning consultancy Rural Solutions on the proposals.
These include a new neighbourhood play area, improvements to drainage, footpaths and Victoria Mill Road. Ecological enhancements include new native tree and hedge planting, with landscape design is by Collington Winter.
The proposals were submitted to East Suffolk Council in September 2020 following consultation with local residents, and the application has now been validated (Reference: DC/20/3326/OUT).
The application can be seen in full on the Council's website, where you will also be able to submit your views on the proposals – and Leaper is encouraging anyone in support to add a note as such.
In the application Leaper Land stressed the urgent need for custom and self build housing in East Suffolk, with 410 people signed up to the East Suffolk self build register. Leaper has conducted wider research into appetite for custom and self build that indicates significant unmet demand locally.
The proposals will therefore be an important contribution to the district's housing needs and will help address a severe local shortfall in Custom and Self-build housing.
Leaper Land has proactively addressed a range of questions on its website, such as how the proposal works with the local and neighbourhood plans, such as minimum indicative housing requirements.
The proposals also include affordable housing provision, including an allocated 17 homes (34% of the total), with a mix of discounted market price, shared ownership and affordable rent.
"Our research shows there is strong demand for Custom and Self-Build homes in and around Framlingham and so our proposal, if granted permission, will make a significant contribution to satisfying that demand. We are excited at the prospect of creating a beautiful new community which closely reflects the local vernacular while also providing a unique opportunity for individuals to get closely involved in the design of their new homes," says Ben Marten, Director of Leaper Land.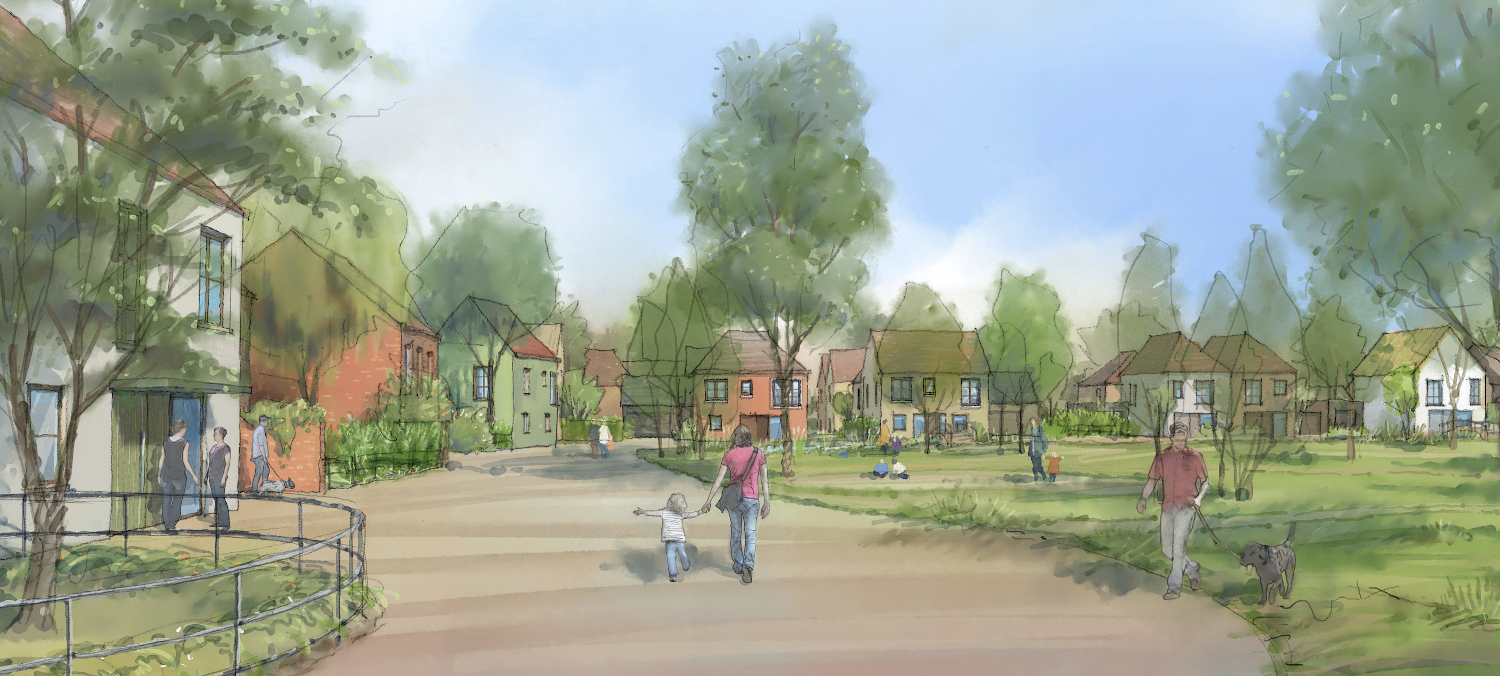 Leaper Land has also applied for planning in Child Okeford in North Dorset 
If you have land that you think would be suitable for custom or self build, get in touch with Leaper Land.
Images: Pollard Thomas Edwards/Leaper Land