The National Custom and Self-Build Association (NACSBA) held its Right To Build Summit at the end of last year, with guest speakers and NaCSBA representatives sharing insight and facts about the custom and self-build industry.
Key on the day was the announcement that 33,000 people had signed up to the Right To Build Registers, a huge increase of 80% of the first year's figures (which represented just seven months).
First, we bring you some of the highlights of the guest speakers.
Charlie Luxton, television presenter and architectural designer 
At the Right To Build Summit, Luxton shared his belief that the custom and self-build sector holds the key to reconnecting people with planning.
For, Luxton self-build brought on at scale offers the possibility of addressing some of the imbalances in our housing market.
Problems in the UK housing market:
The lack of quality in mainstream new builds,

the disconnect between the generation of haves and have-nots in home ownership, and

the lack of engagement that people have with planning policy locally.
"These problems are made worse by our bizarre housing market," he said. He summed this up by explaining that for too long now the country has resisted development locally and treated home-ownership as a form of financial speculation.
This has resulted in us whittling down all house-building activity to a handful of companies who build what they want, according to tight profit margins.
The decisions this group of building companies make affects us all, as they limit innovation in design and restrict new routes to home ownership.
"And we know that they're not even offering a product that people value, reflected by the fact that most people said they wouldn't want to live in a developer-built home," he added.
"But developers are just a product of the system that we, as a society, have endorsed."
"However, self-build can save us from all these things," said Luxton.
For Luxton, self-build and especially group self-build can change this, as it has the capability of unlocking community engagement.
But to do this we must encourage local authorities to back custom and self-build so that it can empower people to create quality homes that reflect their needs and preferences.
"This will reconnect planning to the people, and support local residents, business and economy, which can only be a good thing," he said.
"Self-build offers the perception that it's building on a local level and offering local employment opportunities and supporting local business.
It offers a human scale that changes the way people see development," said Luxton. "Self-build has enormous power to empower people to engage with the planning system."
"Self-build creates fantastic housing, built by normal people who value space and community," he said.
Green shared a selection of data at the Right To Build Summit that gave an overview of the custom homes and self-build sector, offering clarity and some path finding for the industry.
He explained that the existing self-build market is heavily reliant on a wealthy, mature segment of the population, that is carrying its wealth with them into old age.
He found that these self builders are now in their 50s and 60s, whereas ten years ago they were in their 40s and 50s. And their wealth is not necessarily in income, but rather housing equity, which gives them considerable buying power when it comes to self-build.
The data also showed that these people built bigger homes often on large, expensive plots, with build costs that are typically twice as expensive as that of a spec-built home.
However, this reflects that much of the current self build market is opting to build higher-quality, higher-spec homes that inevitably cost more to construct and have a correspondingly higher end value, typically 29% above cost.
This does not imply that custom and self-build is necessarily a more expensive form of delivery as many choose to build to a budget, but is about choice, with some DIY self builders completing homes at a lower cost than the spec housebuilders.
But with this, Green predicted that the decline of the wealthy baby boomers will trigger a change in the market, that it needs to adapt and embrace a different model.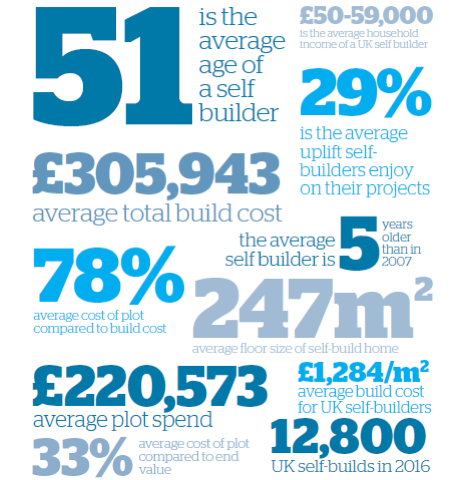 "What's vital for the sector's survival is that it normalises," said Green. "Custom and self-build has to find a way to become relevant to the less financially lucrative generations following behind the baby boomers."
Consequently, new models need to be examined for the future of custom and self-build – working to deliver improved affordability – however this is achieved. It's key that the younger generations see custom and self-build as an option for their own homes.
This 'normalising' will also remove the perceived challenge that is currently associated with building your own home. "If the sector wants to grow it must greatly broaden its appeal to less wealthy households."
So what was the good news in all of this? "Well there's lots," reported Green.
He found a far more responsive environment to custom and self-build homes, with Government support in the form of legislation and public perceptions to local development improving.
But the challenge for the industry is now how to capitalise on these changes, and bring self-built homes to a greater number of people.
And in his data for 'Motivations to self-build', the under 45 and 45-59 groups both rated an individual design as one of the highest driving forces behind their build.
And this isn't going to change – custom and self-build offer the only real opportunity to get the house you want and that truly reflects your needs.This may be a home office, multi-generational living or disability-specific design, or a host of other ways that people want their home to mirror their lifestyles and tastes.
The sector has access to the data in the form of the report, and now must act on it.
The Self and Custom Build Market Report 2017 is available to buy, at £750+VAT.