Government recently announced a new National Design Guide, part of a revised set of planning practice guidance (PPG) by the Ministry of Housing, Communities and Local Government (MHCLG).
Launched by Housing Secretary Robert Jenrick, the new guide will be a national standard for new homes, based around 10 characteristics of well-designed places that contribute to the themes in the National Planning Policy Framework (NPPF). The new guide sets out to support practice in creating beautiful and high-quality buildings and environments to improve the health and wellbeing of people and create better places to live, effectively addressing how we recognise a well-designed place.
Under the NPPF, planning permission can be refused if the application fails to improve the quality, character or functionality of an area, and the new guide will support planners in defining this, along with a proposed National Model Design Code by 2020. Local authorities are being called on to develop their own design guides to reflect local setting, character and history, while fitting into the new standard.
The guide goes further than building design, recognising that design includes the wider context of places and buildings, including hard and soft landscaping and technical and social infrastructure.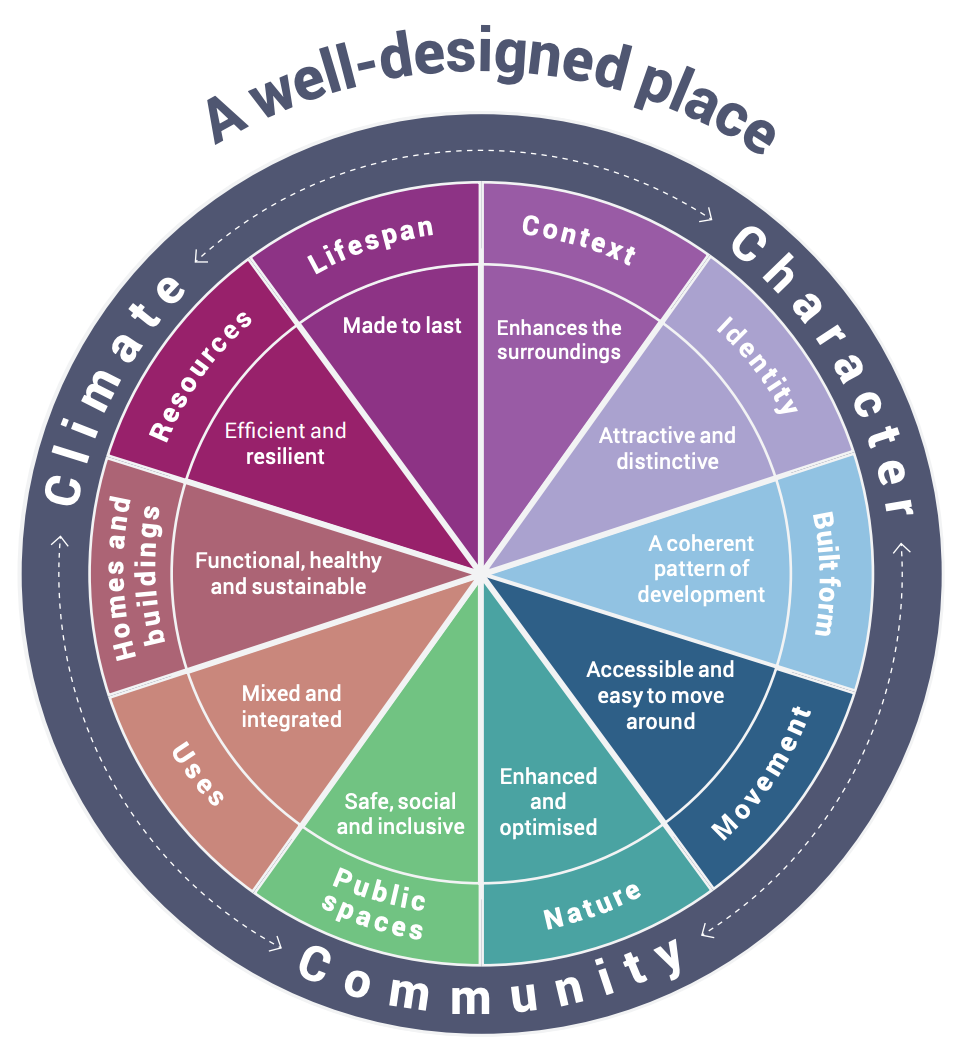 The 10 points of good design:
■ Context – enhances the surroundings.
■ Identity – attractive and distinctive.
■ Built form – a coherent pattern of
development.
■ Movement – accessible and easy to
move around.
■ Nature – enhanced and optimised.
■ Public spaces – safe, social and
inclusive.
■ Uses – mixed and integrated.
■ Homes and buildings – functional,
healthy and sustainable.
■ Resources – efficient and resilient.
■ Lifespan – made to last.
The reception by the industry was mixed with the Royal Institute of Architecture RIBA stating that good design could not be prescribed by default, but welcomes its approach, especially linking the principles of good design to paragraphs in the NPPF.
"It sets out principles… and so it does break new ground," said Philip Waddy, Chair of the RIBA Planning Group. "As a solid guide to creating quality places without ever being naïve, it will have an impact on councillors, planning officers and the public."
But it was also criticised in that the extended Permitted Development Rights allow certain types of development with little concern for standards, as RIBA President Alan Jones explains:
"I'm pleased to see the Government recognising the contribution of the built environment to tackling climate change, and the advice to retain key design consultants through the planning process in the Planning Practice Guidance. However, moves to create a planning system that works for society are undermined by the proposal to extend Permitted Development Rights. The RIBA will continue to urge the Government to seriously consider this move, which will only lead to more homes that sidestep vital quality and environmental standards".