Announced by Rt Hon Christopher Pincher MP, Minister of State for Housing, +Home and Connector Housing have won the government's Homes of 2030 competition. The +Home concept (above) involves a custom build project in which building materials are low in carbon, and appealed to the judges of the competition who were looking for solutions for designing greener and healthier homes.
Homes of 2030 was a design competition funded by government and led by RIBA and BRE. It was designed to drive innovation in provision of affordable and green homes, delivered at scale.
The cross-departmental initiative was designed to broker change, and feed into policy while breaking down barriers that impeded innovation and delivery. Specifically, the competition was looking for widely applicable commercial solutions to low carbon technology in house building.
Winning teams for greener building
The joint winners were +House, designed by igloo Regeneration with Useful Projects, Expedition Engineers and Mawson Kerr, and Connector Housing, designed by Openstudio with Hoare Lea, LDA Design and Gardiner & Theobald.
+Home – (main image) puts forward a proposition for community-led custom build homes that people design for themselves. The design is configured to be simple to build and affordable, due to the design of frames and components, with all materials climate friendly and, ultimately, recyclable at the end of their life.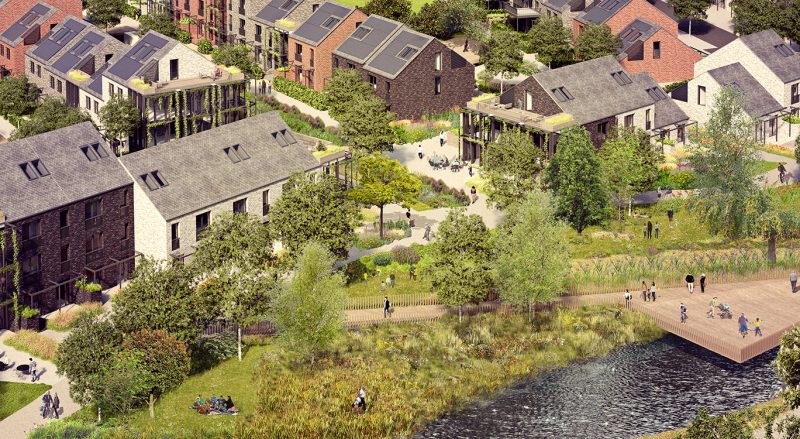 Connector Housing – uses a series of 'base', 'loft' and 'Connector' units to create a range of flexible building types at different densities with mixes of houses and apartments. The Connector is a vertical unit that can accommodate stairs, storage, work spaces and link to communal gardens, creating a flexible approach.
Speaking at the HOMES UK conference, Christopher Pincher MP said: "The Home of 2030 competition was born out of this Government's ambition to meet the grand challenges of our time: helping our country adapt to an ageing society, whilst fighting climate change and boldly pursuing our 2050 net zero commitments.
"Two entries really captured the judges' imaginations – their designs show the way housing in this country can be reimagined and for that I would like to sincerely congratulate both winners of these worthy awards."
Mark Hallett of igloo said, "Igloo have been advocating for Custom Build for a decade now as well as delivering a small number of pilot projects. We believe Custom Build should be a mainstream option and so used the opportunity of the Home of 2030 competition to advocate for this approach to Government.
"There are big system change challenges to overcome but we hope that building all six of the Home of 2030 winners as part of the Sunderland 2023 expo will help to publicise Custom Build to a wider audience."
Future Living Expo, Sunderland 2023
The winning homes will be built, along with the other finalists green home designs as part of the Future Living Expo Sunderland 2023. This will give visitors to the expo the opportunity to experience the buildings in reality, as part of a celebration that will promote low carbon, smart and innovative homes.