NaCSBA wishes Kit Malthouse well in his new role as Minister of State for Policing, and thanks him for the contribution he made to spreading the word about the benefits of Self and Custom Build sector so enthusiastically.
From the start he's been an advocate for the sector and its potential to add more homes to the national shortage and also contribute to increasing housing diversity, giving more people more choice about the type of home they live in.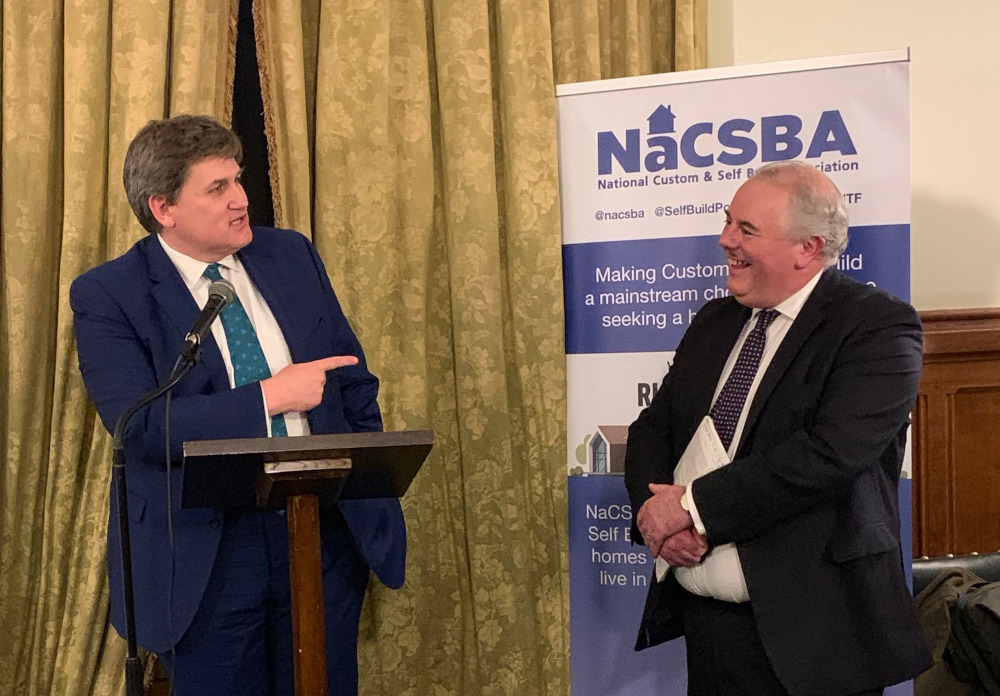 The son of Self Builders himself, Malthouse has fond memories of living in a home tailored to his families needs, and has seen first hadnd what the route can deliver.
Early on in his role he visited Graven Hill and met some of the first residents, praising the UK's largest Self and Custom Build development as an "infectious, ambitious project providing the housing needed for growth and success of the town."
Housing Minister Malthouse sees Self- and Custom build first hand at Graven Hill
In response to a debate by Richard Bacon MP on Custom and Self Build Malthouse said:
"My job is to wander around being disruptive, supporting new entrants and players to create the competitive landscape that he is looking for—competing on quality and type; being disruptive on technology and encouraging modern methods of construction, including off-site manufacture and new techniques, so that new entrants find it easier to overcome the barriers to entry that he mentioned; and being disruptive on finance."
"NaCSBA continues to provide leadership, expertise and experience to overcome sectoral barriers and challenges."
"I congratulate Richard Bacon MP and the Right to Build Task Force for sterling work in banging the drum for Custom and Self Build, helping authorities and community groups to bring forward large affordable custom and self-build projects and demonstrating that that is possible."
NaCSBA hopes that his infectious enthusiasm has paved the way for the incoming incumbents to follow his lead of identifying the sector as a vibrant, innovative and valuable contribution to housing supply.
Main image: Kit Malthouse at NaCSBA's House of Commons Reception, sponsored by Ecology Building Society, (from L-R) NaCSBA CEO Andrew Baddeley-Chappell, Ecology Chief Executive Paul Ellis, presenter Kevin McCloud,Richard Bacon MP, Housing minister Kit Malthouse and NaCSBA Chair, Michael Holmes.
Photo credits: Head and shoulder shots: Number 10/Flickr/Creative Commons https://creativecommons.org/licenses/by-nc-nd/2.0/