London Mayor Sadiq Khan's plan for the city has finally been approved by Housing Secretary Robert Jenrick after nearly a year of delays. Jenrick had ordered 11 changes to be made to the draft plan, originally submitted in 2019, and the approval paves the way for publication.
The plan is a city wide level of policy, that sits between the National Planning Policy Framework and individual borough plans, setting out the basis for new development, from tall buildings to sustainability standards.
Custom and self build
NaCSBA welcomes the fact that the plan includes a reference to custom and self build in Policy H2, which states it will:
A. 4) support those wishing to bring forward custom, self-build and community-led housing
The plan also stresses the need for housebuilding in London to embrace diversity to reduce the reliance on a handful of large developers, with custom and self build linked to the potential for new and innovative approaches to come forward.
However, the final version of the plan has watered down the small sites offering (up to 25 homes) proposed in the draft plan, following push back from suburban boroughs. This has resulted in the approved version dropping the controversial small sites targets and removing the presumption in favour of densification in outer London.
Mayor Khan has done a lot to recognise the value small sites can have as a valuable route to land. The 2017 Strategic Housing Land Availability Assessment (SHLAA) for London indicated that 24,500 new homes could be created annually on small sites, which was revised down to 12,000 new homes in the approved plan following push back by Conservative suburban boroughs.
The Mayor also has a Small Sites Small Builders programme, which is ongoing, bringing on 40 small sites for development, with more in the pipeline.
Sally Tagg, planning specialist and NaCSBA's Technical Representative said, "The London Plan's reference to custom and self build is welcome, as it sets the tone and can be used as a springboard for local planning authorities across London for planning policy inclusion in emerging local plans. It also sets an example for other authorities in urban settings.
"The use of small sites is an important consideration and should not be under estimated in terms of the opportunities that can be generated, providing the prospects of more choice, utilisation of sites that larger developers may deem to be outside their business model and enables community group custom and self build and smaller SME developers the prospect of such sites."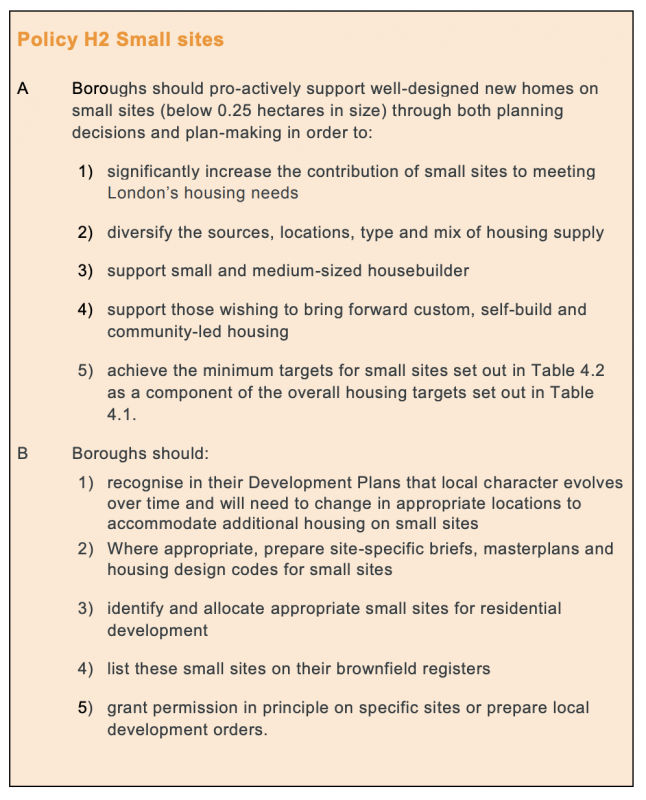 Image: tall buildings in London's Docklands