Government has launched a £150 million Help to Build scheme to support consumers wanting to build, together with an extensive Action Plan aimed at supporting a boost in custom and self build delivery.
Together, the two-pronged approach will help kickstart a self build revolution, encouraging far more people to consider an owner-commissioned home, while providing a valuable route to work for SME housebuilders. This is welcome both for the jobs and training opportunities this will provide, but also for the boost it will give to local economies.
The Custom and Self Build Action Plan includes:
A Prime Minister-commissioned review to establish a plan to scale up self and custom build homes
A review of the Right to Build legislation to improve how it is applied in practice
A Self and Custom Build Land Release Fund for local authorities to bring forward plots on land they own
Funding for the Right to Build Task Force (www.righttobuild.org.uk) so it can continue to work with English local authorities to advise around delivery and policy
Government has also allocated £2.1 million additional funding to help communities decide where they want new homes, shops and offices to be built and what they should look like, as part of the announcement.
Baddeley-Chappell said: "The Action Plan represents the single most important announcement for the custom and self build sector since the establishment of NaCSBA over 10 years ago. For too long England has been out of line with the rest of the world with regards to the lack of consumer choice in our new homes market. The consequences of this have become all too clear, as has the need for change. This Action Plan will ensure an environment exists in England that delivers more and better homes.
"Our focus now is ensuring that the public sees this as a natural approach to getting a new home that meets their aspirations and needs. As a sector, we need to do more to build the business capacity and structures that underpin the choice that exists elsewhere. Finally, we need councils to do their bit to ensure the plots that are needed are permissioned, so that these homes can be built."
Help to Build Equity Loan Scheme
Announced by Housing Secretary Robert Jenrick, the Help to Build fund is supported by over £150 million in new Government funding to make it easier and more affordable for people to build their own homes. This will be transformative for the custom and self build sector, as it gives access to the market for those who are constrained by a smaller deposit, while demonstrating the confidence that Government has that the scheme will deliver more and better homes.
Baddeley-Chappell said: "For too long custom and self builders have been largely locked out of the Help to Buy Scheme. This was unintentional but created an uneven playing field. The Help to Build equity loan scheme addresses this gap, allowing access to the custom and self build market for those with sound plans but limited deposits. The scheme will deliver a diversity of homes that better reflects the wide range of needs and values that exist within our communities."
The Bacon Review
In 2011 a government/ industry action plan marked the start of the revival of self and custom building in England. Ten years on and the Prime Minister has commissioned Richard Bacon MP to conduct an updated review of the custom and self build industry. Chair of the All-Party Parliamentary Group on Self-Build, Custom and Community Housebuilding and Place-Making, Bacon will be assessing the actions needed to scale up the sector to enable many more people access a home that suits their needs and desires.
Baddeley-Chappell said: "A review of the sector is a welcome opportunity to examine how to ensure that more people have access to an owner-commissioned home. This will provide multiple benefits to opportunities for local economies, from SME housebuilding to training opportunities, as we work to deliver more and better housing."
Bacon Review – letter from the PM
Read more about the Bacon Review
"Self-build and custom housebuilding can play a crucial role in increasing choice for consumers and ensuring people can live in the homes that they want, and that are designed to meet their needs. We know that self and custom builders deliver high quality, well-designed homes that are energy efficient, accessible, affordable, and welcomed by their communities."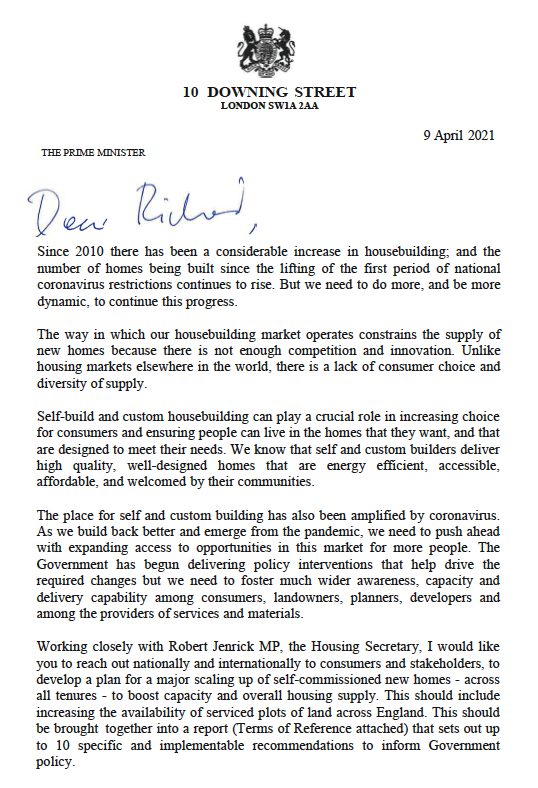 Legislation review
Announced on Right to Build Day, 30 October 2020, the review will examine how the Right to Build legislation works in practice. It will address where the discrepancies lie between the intention of the legislation to help more people custom and self build and what is actually happening in local authority practice. Together with a recent commitment to publish data on the sector, this will ensure the legislation is fit for purpose moving forwards.
Baddeley-Chappell said: "The Right to Build legislation aimed to double the size of the custom and self build market and support SME builders. However, it has become clear that this growth has not been achieved, in no small part due to an absence of both action and support from a growing minority of local authorities. NaCSBA has identified a number of areas where action is required to ensure that local authorities work as the legislation intended– which requires some tightening of the letter of the law. The legislation exists to empower individuals, but too many people are facing too many hurdles to fulfilling their dream. And quite simply they lack the time or resources to challenge this. We strongly welcome the review."
The Self and Custom Build Land Release Fund
The new Brownfield Land Release Fund includes two specific elements, brownfield and custom and self build. The Self and Custom Build Fund ringfences £25 million of funding specifically for local authorities working to bring on plots for custom and self build. Applications for the fund close on 2 June, meaning that local authorities currently working on custom and self build projects can apply for funding.
The fund can be used to finance a range of enabling and infrastructure works to help unlock sites, such as site preparation, remediation or providing services.
Baddeley-Chappell said: "While custom and self build is common across the rest of the world, in this country too few of us consider it an option, in part because it is not something that we can see and feel our friends and family have undertaken. This fund should help bring forward exemplar schemes that will benefit those who access them, and, as importantly, inspire others. It will showcase the range of homes and tenures, and also the range of communities into which these homes can be delivered, together with the wider benefits of the route."
Right to Build Task Force
The Task Force works to support local authorities and other stakeholders to understand and improve the delivery of custom and self build. The Ministry of Housing, Communities and Local Government has announced a continuation of the funding to enable the Task Force to reach out to every local authority in England to facilitate this. Local authorities interested in securing a workshop around custom and self build delivery can visit the Task Force's website to find out more, as well as see the range of free advice on offer.
Baddeley-Chappell said: "The Right to Build Task Force provides an increasingly important role in the provision of advice to support the growth of the custom and self build sector. This includes supporting local authorities with free workshops, good practice planning guidance and advice, as well as consultancy to help deliver custom and self build homes. It fills an important market gap at a time when the need for knowledge and understanding is growing by the day, something the market urgently needs."
Previous support for custom and self build
These latest announcements add to a series of recent measures evidencing government's endorsement of the route, including the Chief Planners comment in her newsletter: "Self and custom builders are well placed to build high quality, well designed homes that are energy efficient, accessible, affordable and welcomed by their communities." Chief Planner Joanna Averley, February 2021.
Other measures to boost self and custom build output include (see links below):
Credit: Self Build home with oak detailing, by English Brothers Ltd