WINNER ANNOUNCED!
After much deliberation, NaCSBA's expert team of judges has announced the winner of 2017's Shoestring competition.
London architecture firm Inglis Badrashi was named the winner for 'The Apple Yard' – a retirement home scheme with communal facilities, allotments, greenhouses and an orchard in the centre. Each open-plan home has a pyramid shaped roof with one wall that is fully glazed, overlooking a small private garden area.
Read more about the project here>>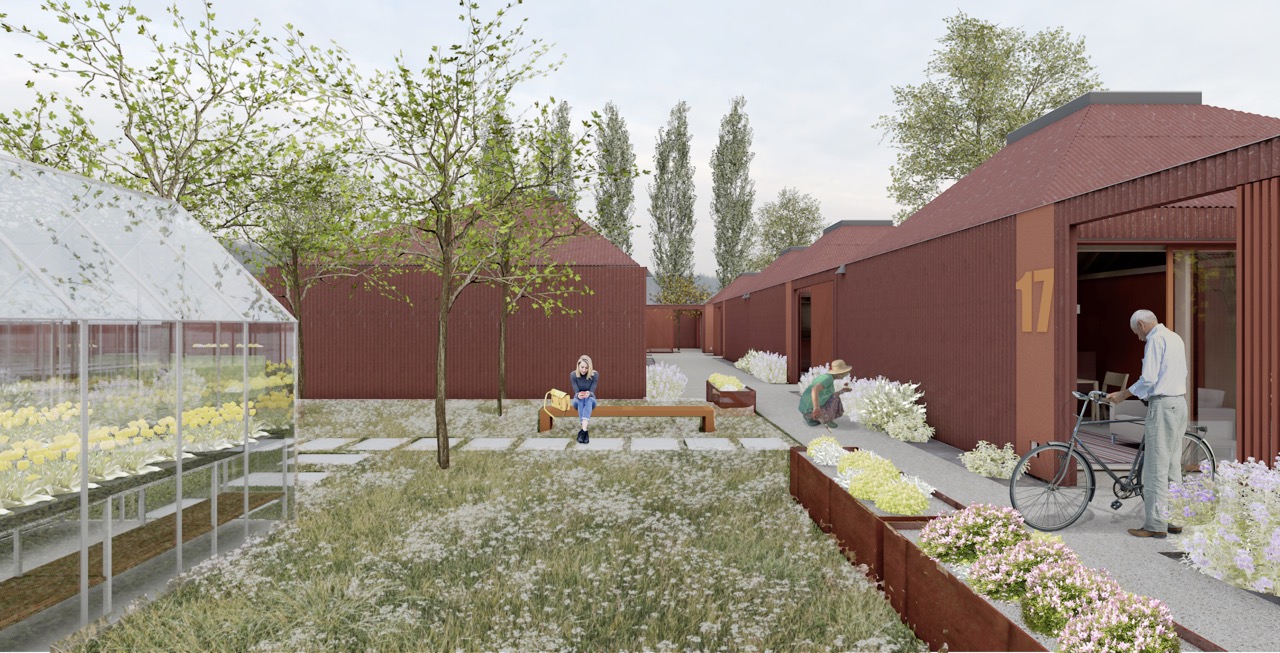 Click here to see the six finalists>>
2017's competition outline
In mainland Europe scores of modestly priced retirement communities have been built by local people who have formed a group, commissioned an architect to design what they want and then hired a contractor to construct the homes for them. The properties are tailored to each resident's requirements and the communities encourage interaction, healthier lifestyles and the mutual support of each other, thereby reducing the need for social care.
NasCSBA thinks it's about time we saw more projects like this happening in the UK. That's why our annual Self Build on a Shoestring competition – launched on the 6th May at Grand Designs Live – challenges designers to devise an innovative low cost 'granny annexe'. And the designers also have to show how 30 of the homes could be grouped together to create an innovative retirement community.
The individual homes must be constructed for less than £40,000, or the whole community of 30 homes – which must also include a range of shared/community facilities – has a maximum budget of £1.5m.
Three of the UK's top TV presenters have agreed to be Judges for this year's 'Shoestring' competition including George Clarke, Piers Taylor and Charlie Luxton. Other judges include design and self build experts and the consultant who helped set up the first project like this in the UK (the 'New Ground' scheme in North London, which opened this year and provides 22 new homes for single elderly women).

The rules
Anyone can enter the competition – architects, designers, modular construction specialists, timber framing experts, custom build developers, innovation or technical gurus, or members of the public. Entrants need to provide good technical information (and robust costs data) together with high quality visual material, so non-professionals are encouraged to team up with others to ensure they match the high standards.
A full Brief for the competition can be downloaded by clicking the banner above (or here), and the deadline for submissions is 21st September 2016. The winner will be announced at the Grand Designs Live Exhibition at the NEC in October, where there will also be a display of the top finalists.
Further information
To find out more about past shoestring competitions, follow the links below:
2013 Design a home for a family of four
2014 Design a 20 home development in the city
2015 Design an adaptable starter home
2016 Design a low cost starter home