The original self/custom build design challenge!
A unique ideas competition, run in collaboration with Grand Designs Live (GDL), open to all, where you have to design homes that can be built for a measly amount. We look for cost-effective, green and beautiful designs. Selected entries are displayed at GDL and the winners share a £5000 prize fund! We run this competition annually: the launch in May during National Custom & Self Build Week, the deadline during September and the winner's ceremony at the GDL event in Birmingham in October.
Shoestring 2015!
This year's challenge was to design an innovative 'self build' starter home that can be constructed for less than £40,000. The home had to have one bedroom, a living room, kitchen and bathroom, and be capable of being easily expanded as the family grows. Later on, it could grow again to provide a multi-generational home, or contract as the family downsizes, or even be split into two.
The 2015 competition was designed to showcase innovative designs that will provide an adaptable home that will last a family a lifetime. So, the focus was on delivering a 'modular' solution that can either be fully self built, or part-built in a factory (to provide a watertight shell) that the self builder can then finish it off.
The winning design – submitted by Niall Maxwell from Rural Office for Architecture (in collaboration with Rhodri Thomas (system design), Kieran Rees (system development) and James Blundall (visuals & presentation)) – was effectively a 'flat-pack' home made of 18mm plywood sections that were stamped out using a computer-controlled cutting machine. The machine automatically generates the plywood sections that form the floors, walls and roof. This results in very accurate cutting, and minimal waste.
The system needs no additional structural support, so is easy to assemble. "Think of it as the building equivalent of flat-pack furniture, but with the added benefits of future extension, alteration or relocation," says Mr Maxwell.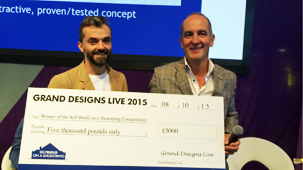 The judges – including Kevin McCloud and the RIBA's self build representative Luke Tozer – were impressed that the design was based on an early prototype that the Rural Studio for Architecture built last year: "This solution has been based on a similar 'test' building that the team constructed last year – this suggests it is practical to build and the costs data that was provided is realistic and well prepared. If the homes were mass-produced the home could be built for about £840 per m2."
---